Fourth Season ~ 2009
March 3rd 2009 So 2009, wow…I love the consistency of nature. As the world worries and frets about the state of the economy, the state of the lavender field reminds of the state of the lavender field last year…lookin pretty bad BUT with little signs of new growth.
I have seen this before and everything is going to be ok.
The lavender also splits as it grows. I am not sure if this matters or if it is due to something I am doing wrong.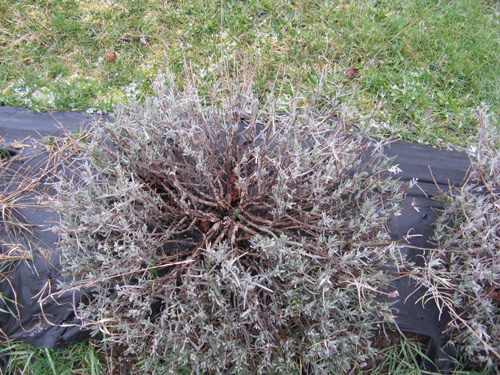 ~~~~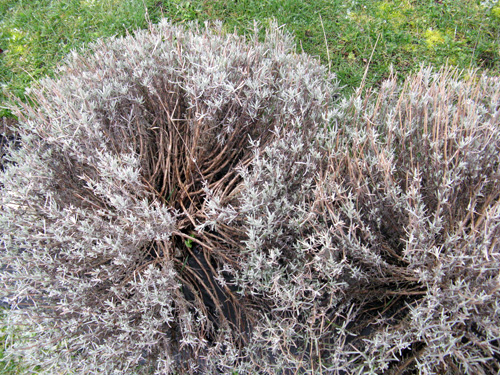 We will see…
But yes…things are looking brown..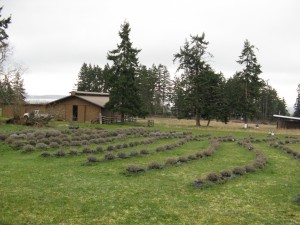 *
May 15th 2009
Well so far I have not shaped the plants. A lot of them look just fine and have not realy grown that much. I did spend 6+ hours weeding and by the following weekend it looked like I had never weeded. I have to figure something out for weeds!
June 3rd 2009
The first signs of this years flowers are showing up on the lavender. The Folgate is the first variety that the little stems and buds appear on.
I did not cut the lavender back this year and I think it is going to be ok. Last fall the deer ruffled up some of the graves lavender and those plants look like they could use some trimming but I think I will wait and see.
I still need to figure out the weed block situation…the grass is very tenacious! I also need to figure out a better way to hang and dry the lavender this year…something a little more functional than just stringing twine across the barn and hanging them over it.
June 24 2009
Picked the first part of the Folgate today. It was raining off an on and so I will wait until the weekend and hopefully it will be sunny.
June 28th 2009
I picked all of the Folgate, Graves and Bettys Blue today. Betty's Blue is my favorite. It actually looks a lot like Hidcote Blue.
July 20th 2009
We picked the last of the Grosso today. That does it for this years crop. July 20th was a bit late to be picking for drying as it had quite a few florets open but it makes for nice bouquets.
I left a few varieties uncut this year..partially because I don't have time to pick them and partially because they look great and the bumblebee's love them.
Making Lavender Wreaths
SO here is my way of making a lavender wreath. I am sure there are many ways to do it and I think I could improve on my technique but this is the basic idea.
(The wire breaks half way through making this wreath..of course it has never happened before…)