Third Season ~ 2008
Late into the winter of 07-08 half of the field looked dead, brown with very little signs of life. Some varieties were obviously not doing very well. Nothing had changed from the previous year. We had the same weather more or less, more snow that usual but nothing extreme. I had not cut the second blooming from late summer of '07' and thought maybe this had something to do with it.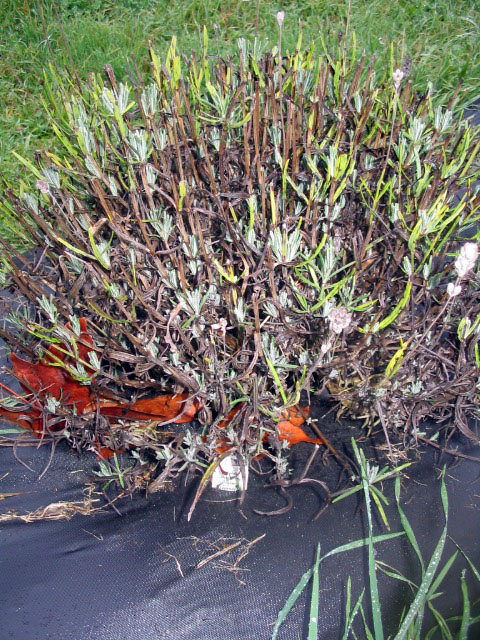 ~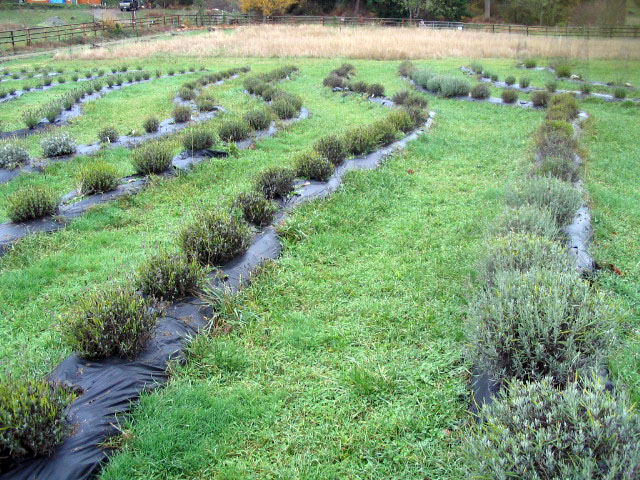 The varieties that looked the worse were Sawyer – (Lavandula x Chaytorea), Maillette – (Lavandula Angustifolia), Lullingston Castle and Hidecote Blue – (Lavandula Angustifolia). The varieties that looked the best were Cedar Blue – (Lavandula Angustifolia) and Graves – (Lavandula Angustifolia). This spring definitely seemed cooler than usual. People in the gardening business seemed to think everything was about 3 weeks to a month late this year. The lavender seemed to be hanging in there and after a little sun it actually seemed to rebound a little. By June it was actually looking like everything might be ok. The plants that looked like they were slowly dying are looking pretty darn good now.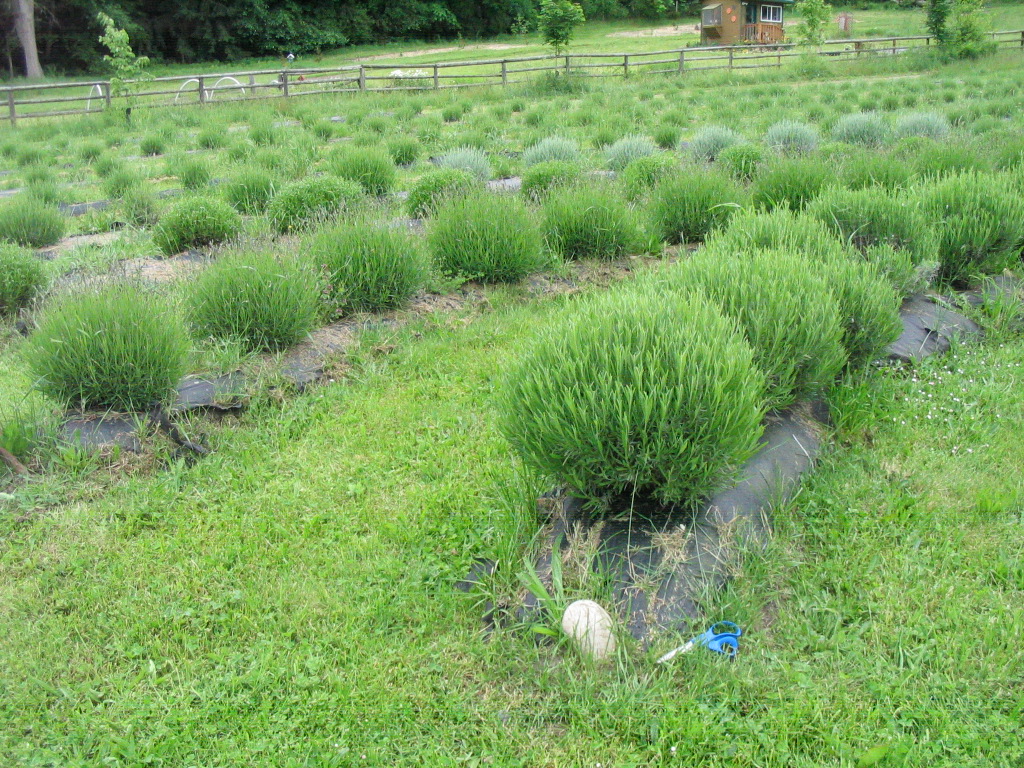 ~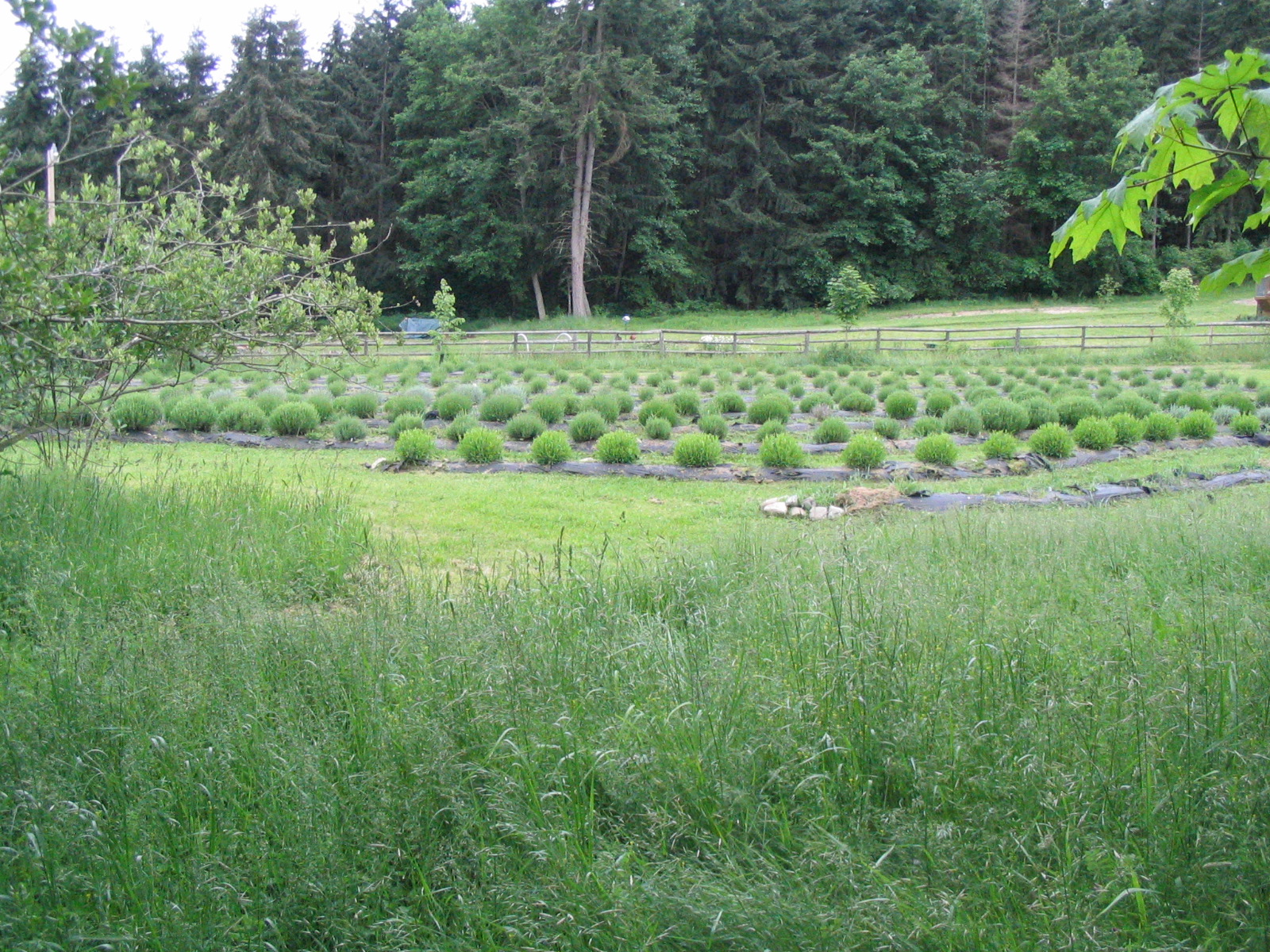 The Folgate Lavender (Lavandula Angustifolia) – Originating from Folgate Nursery in Norfolk) was the first to send up flowers and looked to be about ready to bloom the first week of June (June 2nd 2008).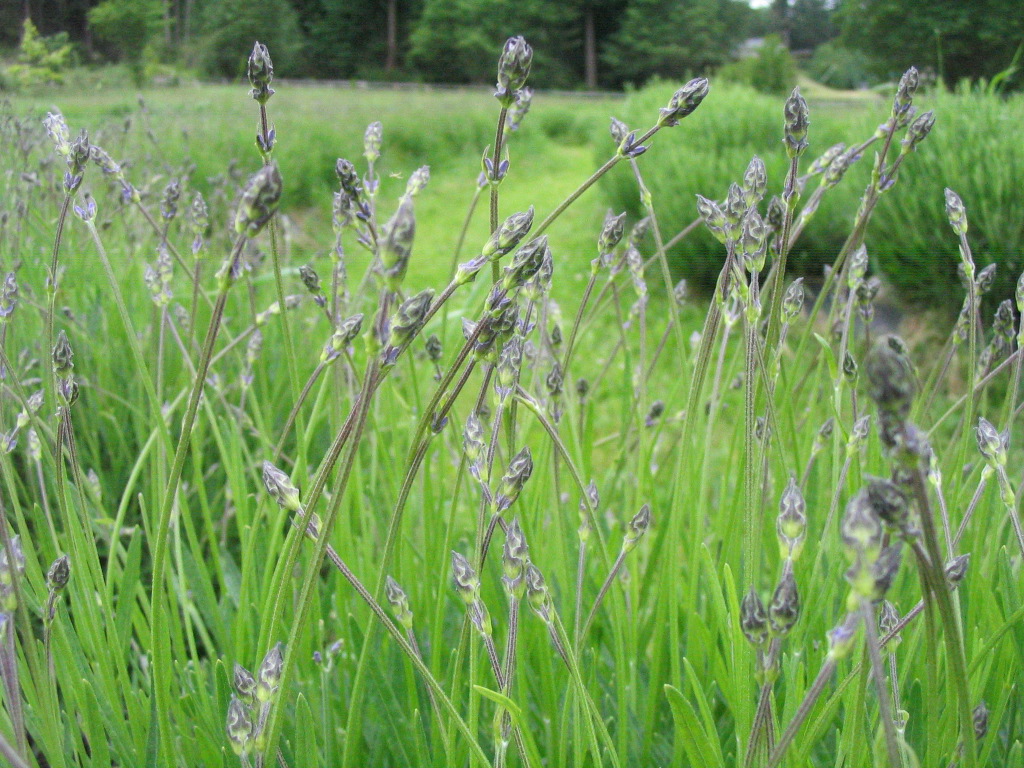 By June 22 the Folgate was close to blooming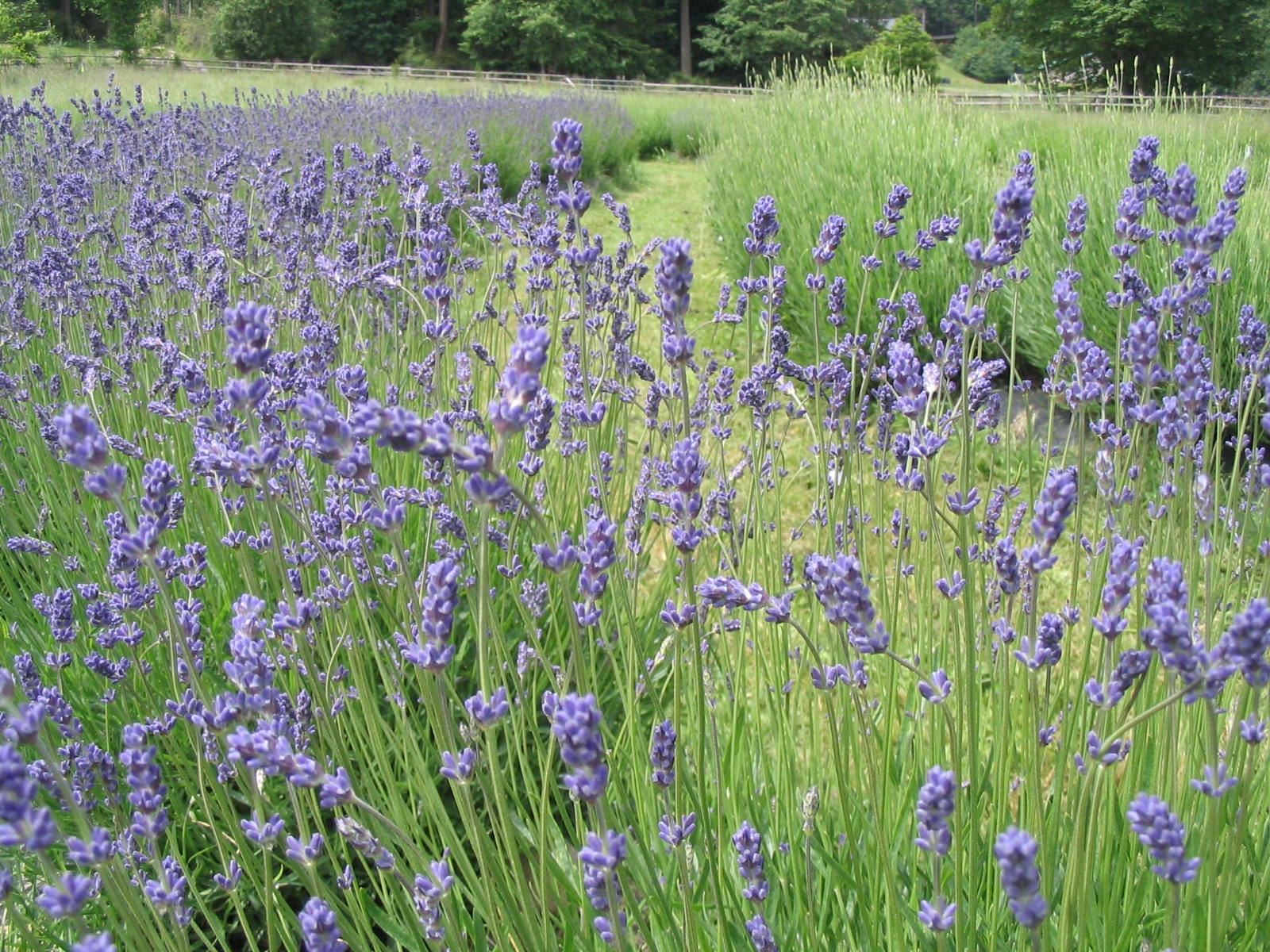 ~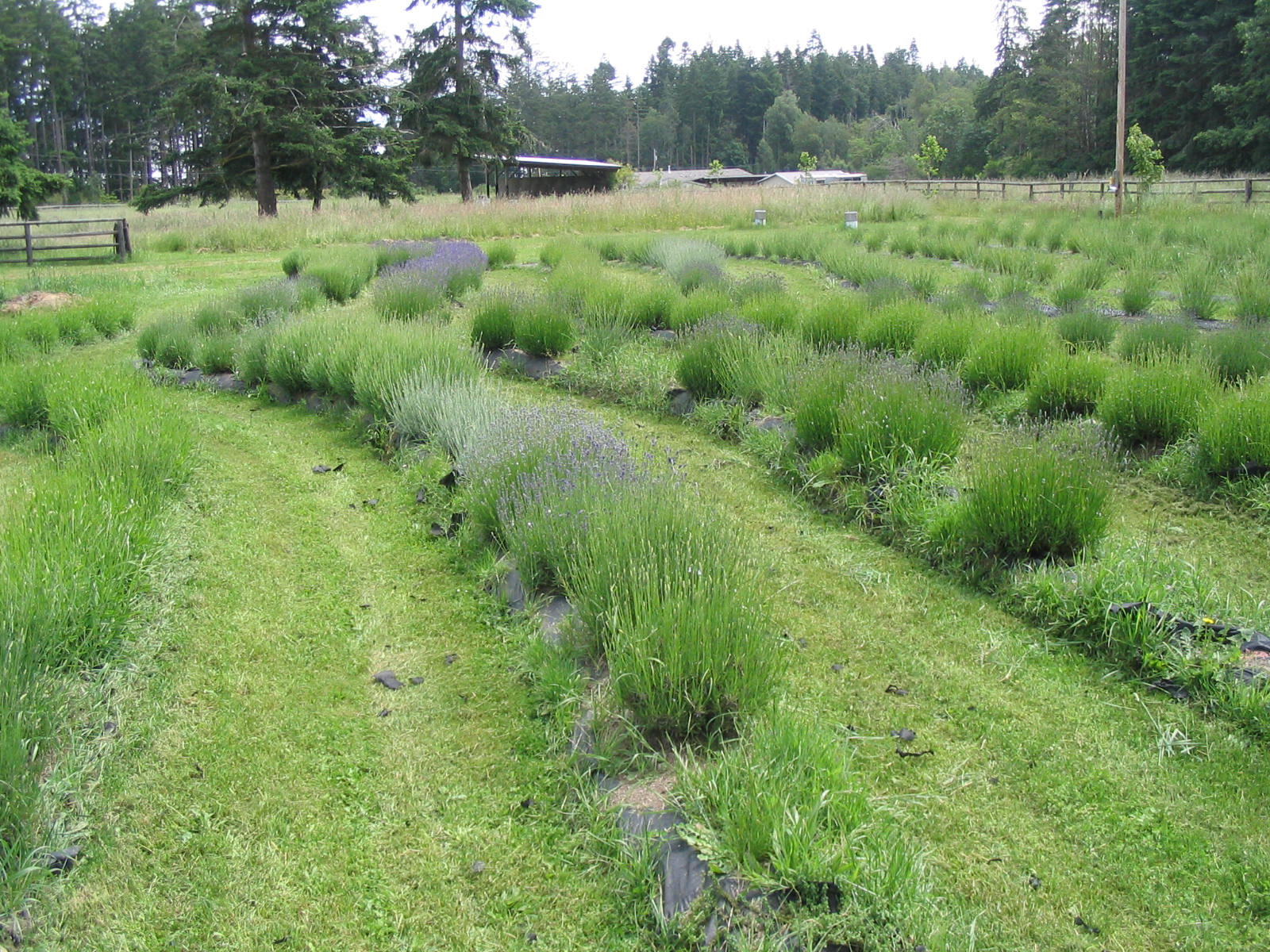 The rest seem to be on their way…
The ground cover was from Home depot and had a three warranty but was pretty darn ragged by this year. The rows were a little too close to each other and the John Deere would inevitably rip it in places. I would definitely not use it again due to it's thinness. I am not sure what I will do to control weeds.
JULY 5th 2008
I picked huge bundles of the Folgate Lavender today. Each plant would fill my entire hand with shoots and then using the lavender scythe I cut them leaving an couple of inches of green beneath the stem. Folgate is very flowery and delicate looking with a sweet but full bodied aroma. It does not smell of camphor. It is best to cut lavender before the peak heat of the day. Lavender cools itself by releasing its fragrant oils, so the more heat/sun they are exposed to the less oil, and fragrance that is retained.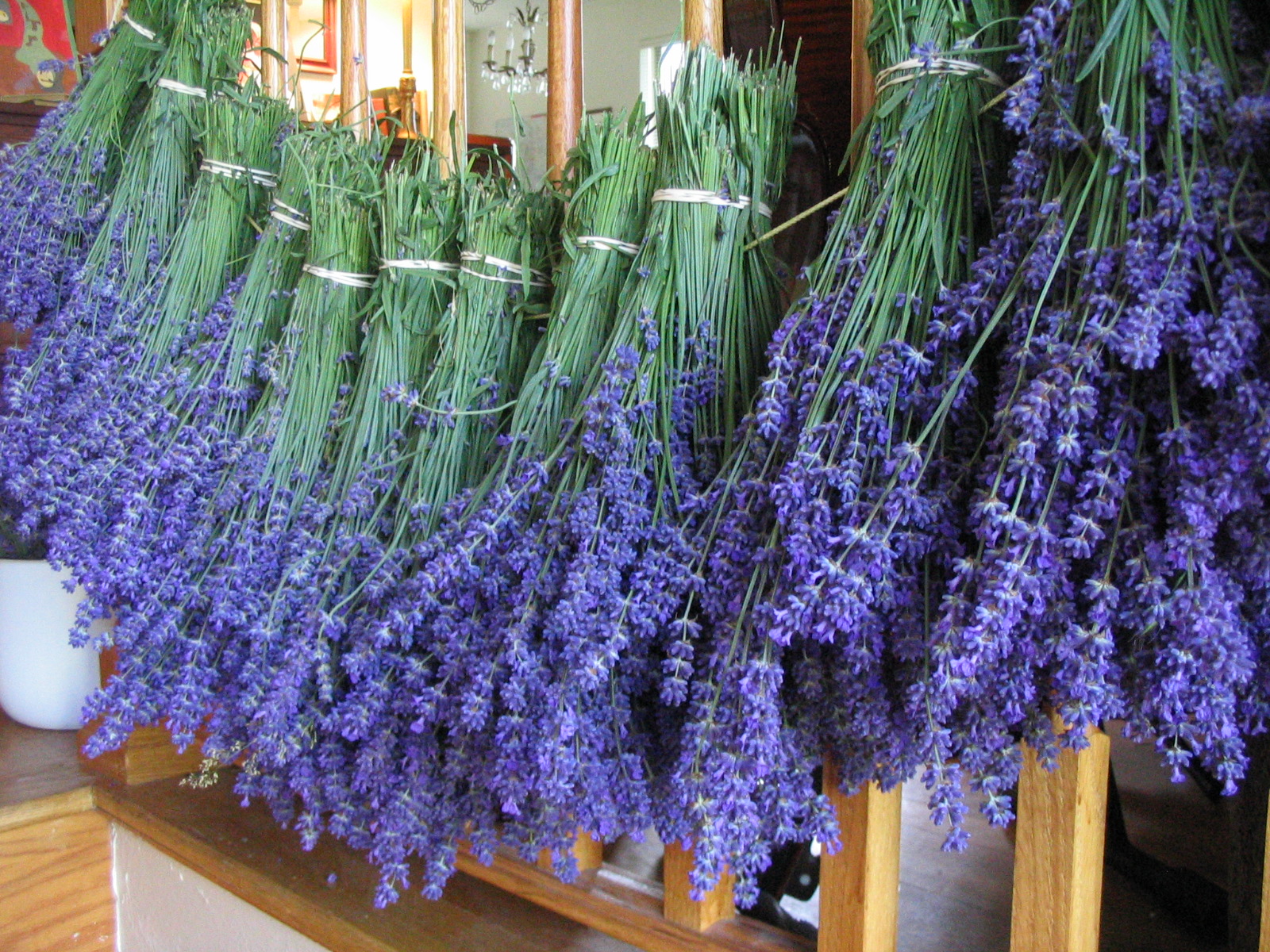 ~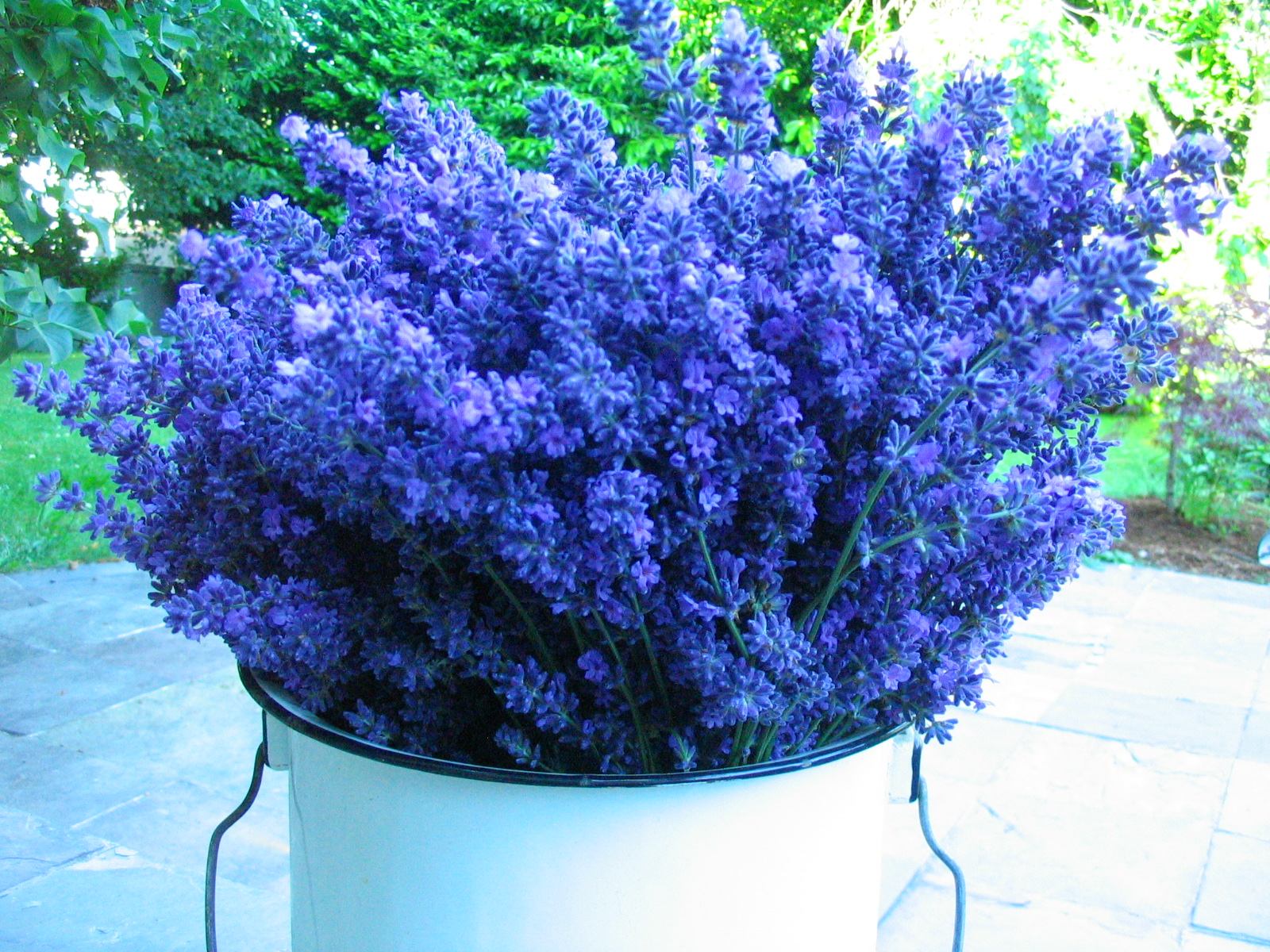 ~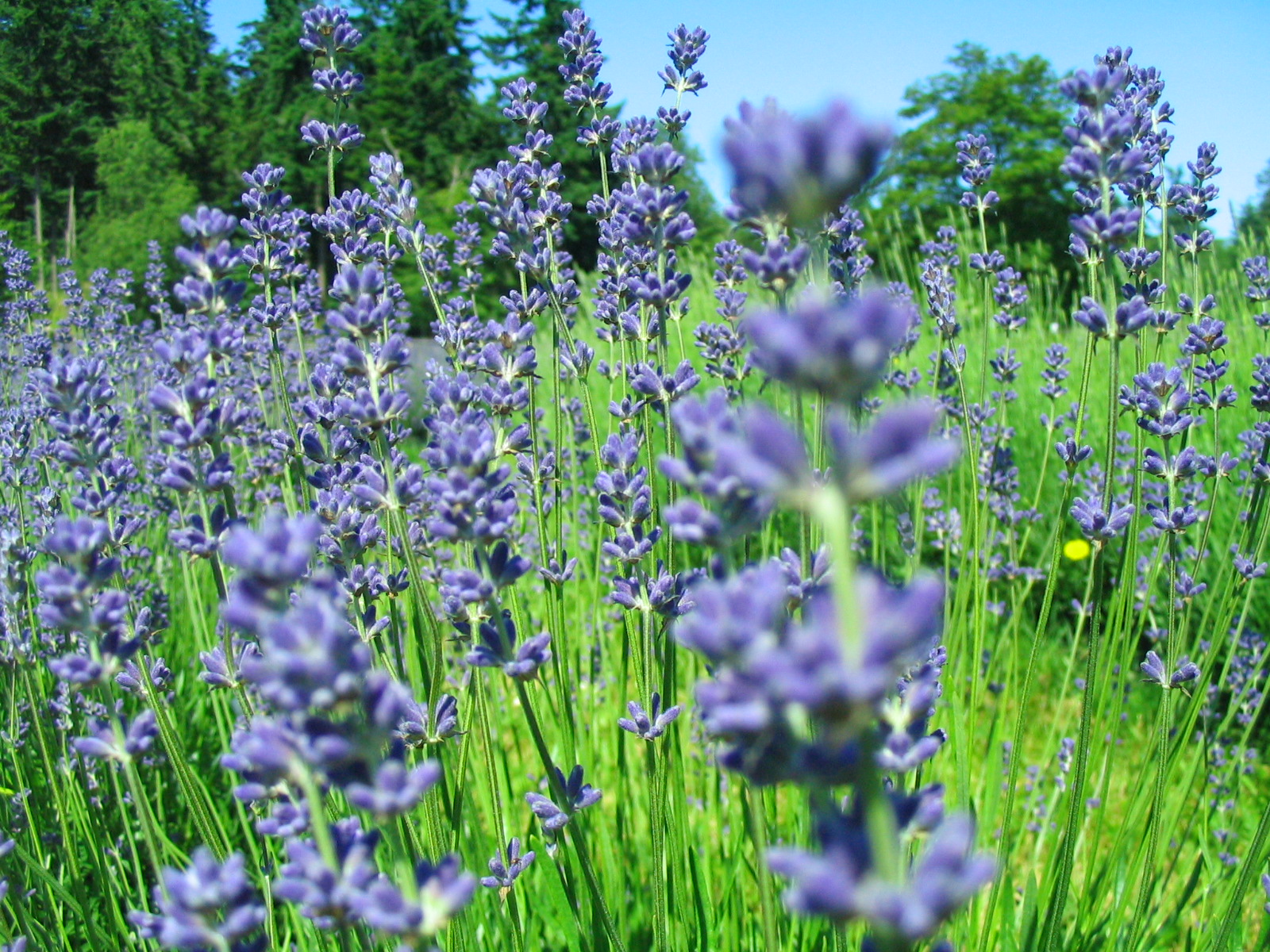 July 13th 2008
The fields are in bloom and I am wondering if I am going to be able to keep up.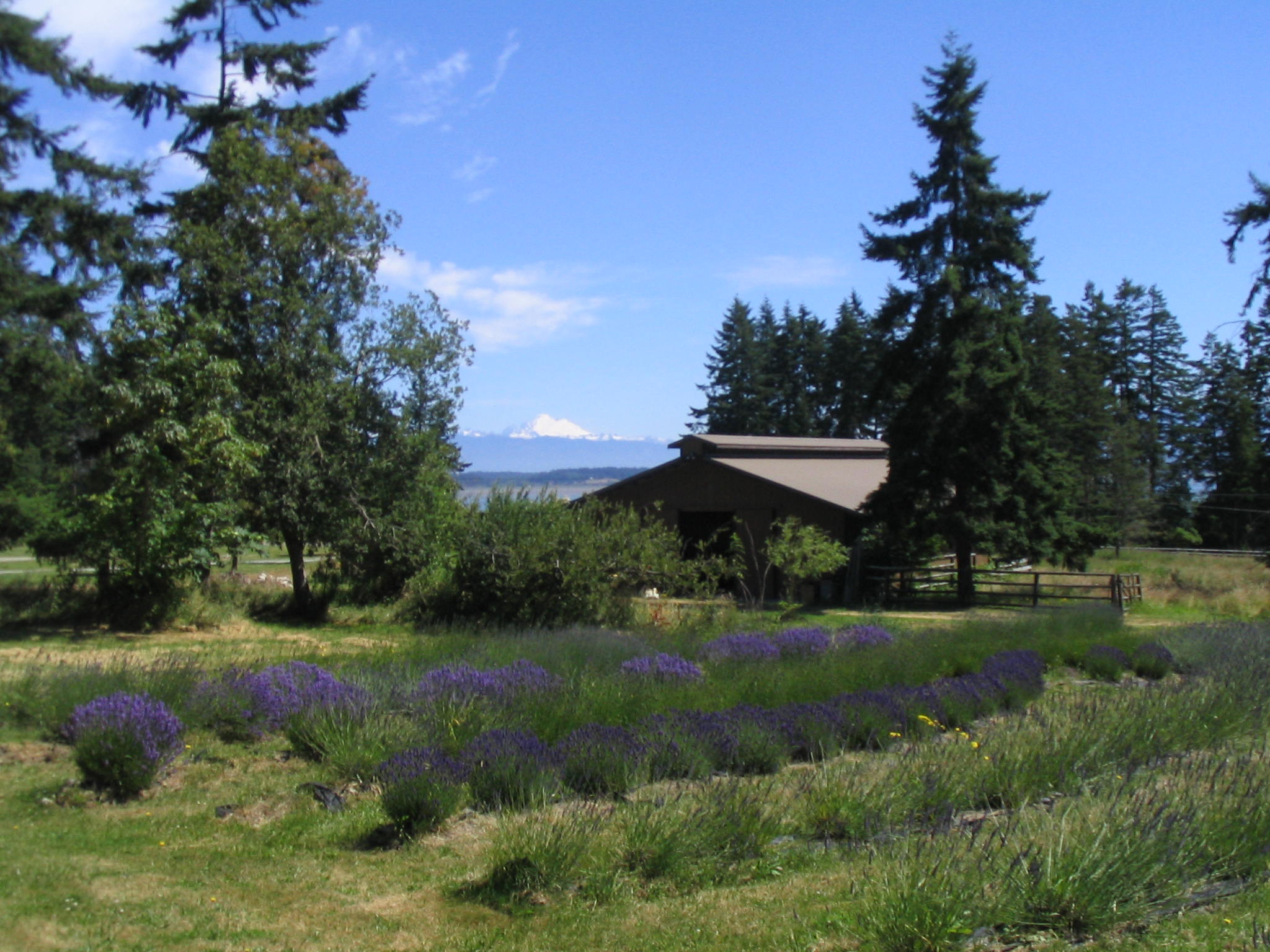 I picked a lot of the Betty's Blue (Lavandula Angustifolias – introduced by Nichols Garden Nursery in Albany Oregon), Graves (Lavandula Angustifolia) and some Silver Frost/Richard Gray (Lavandula x Chaytorae -honour of Dorothy Chaytor – found by the Van Hevelingens in Newburg, Oregon). The Betty's Blues are my favorite. They are not very long but are very smooth smelling and have a very deep color. I am going to use most of the Betty's Blues for culinary lavender. The bouquets were a popular item last year though in the Salon.
Here are some Betty's Blue drying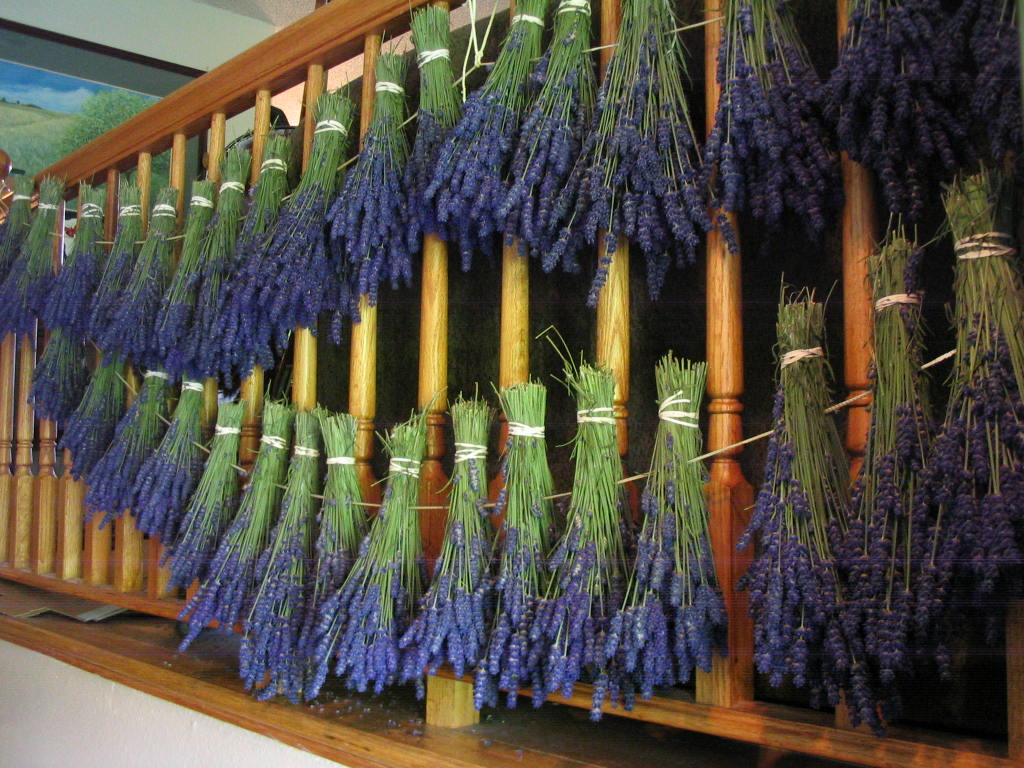 ~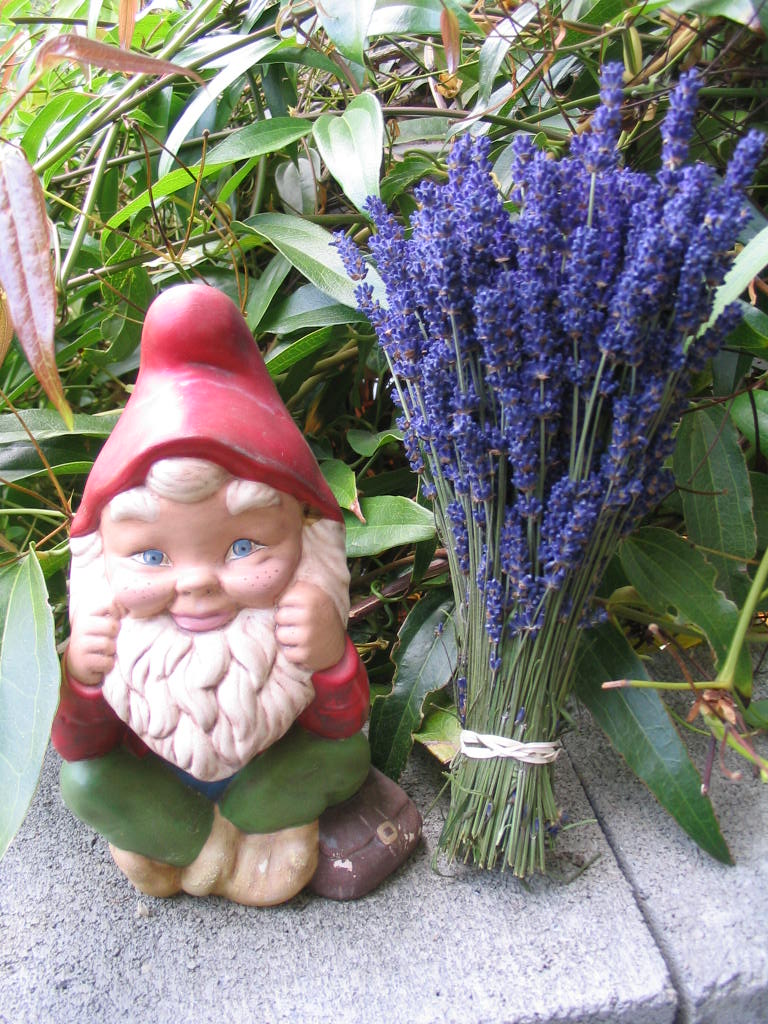 ~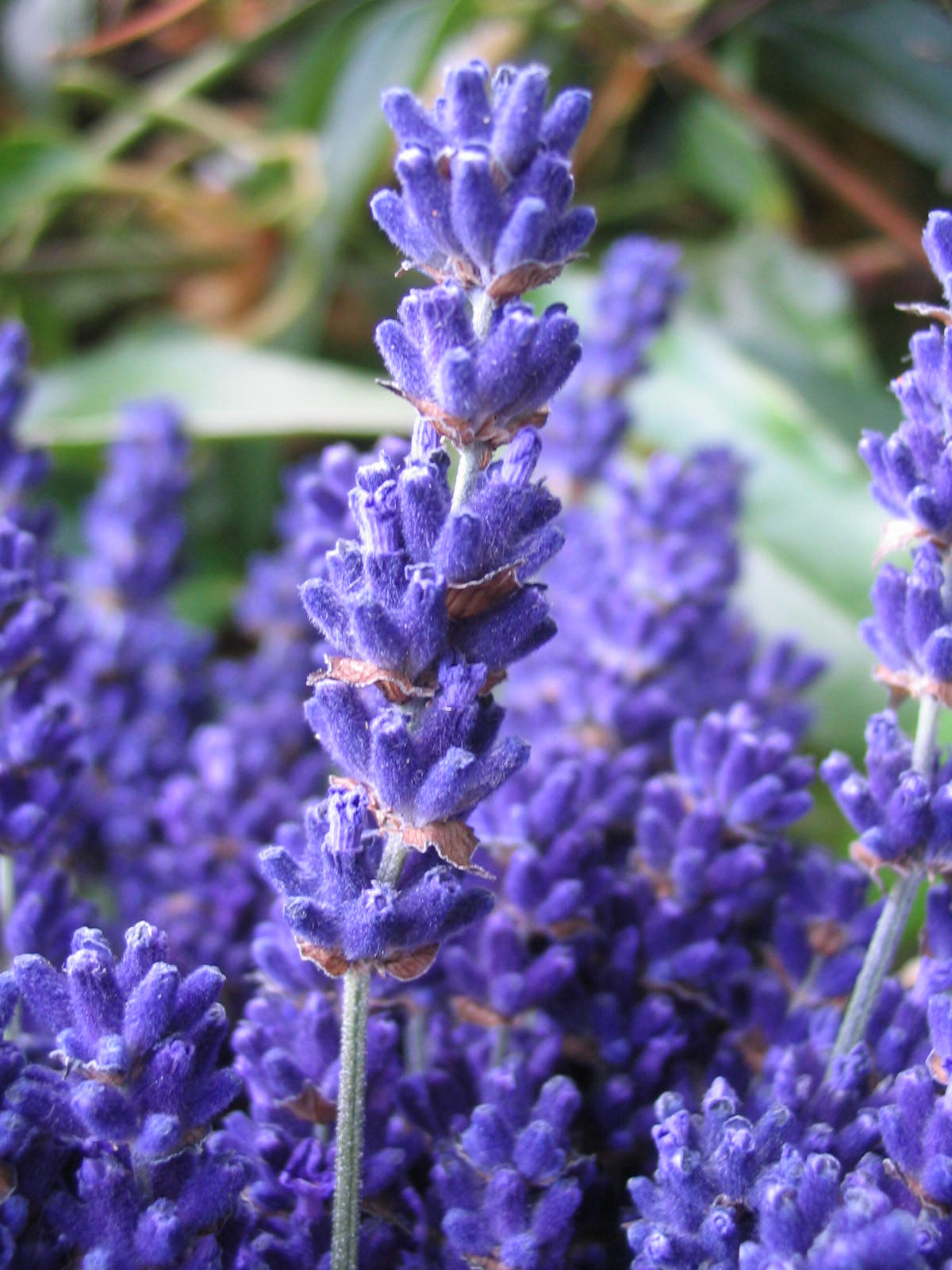 I have to figure out the best way to cut them. The way I have been doing it is very time consuming although I have found myself reminding myself that this is not about producing or capitalizing or being efficient or any other industrial orientation. It is about enjoyment, plus what I don't pick the bees will enjoy.
July 20th 2008
The fields are coming to color…I am tempted to just let them bloom to see what it would look like but the cutting last longer if I cut them just as they are starting to bloom. Usually when I see one or two blooms open on each stalk it is time to pick.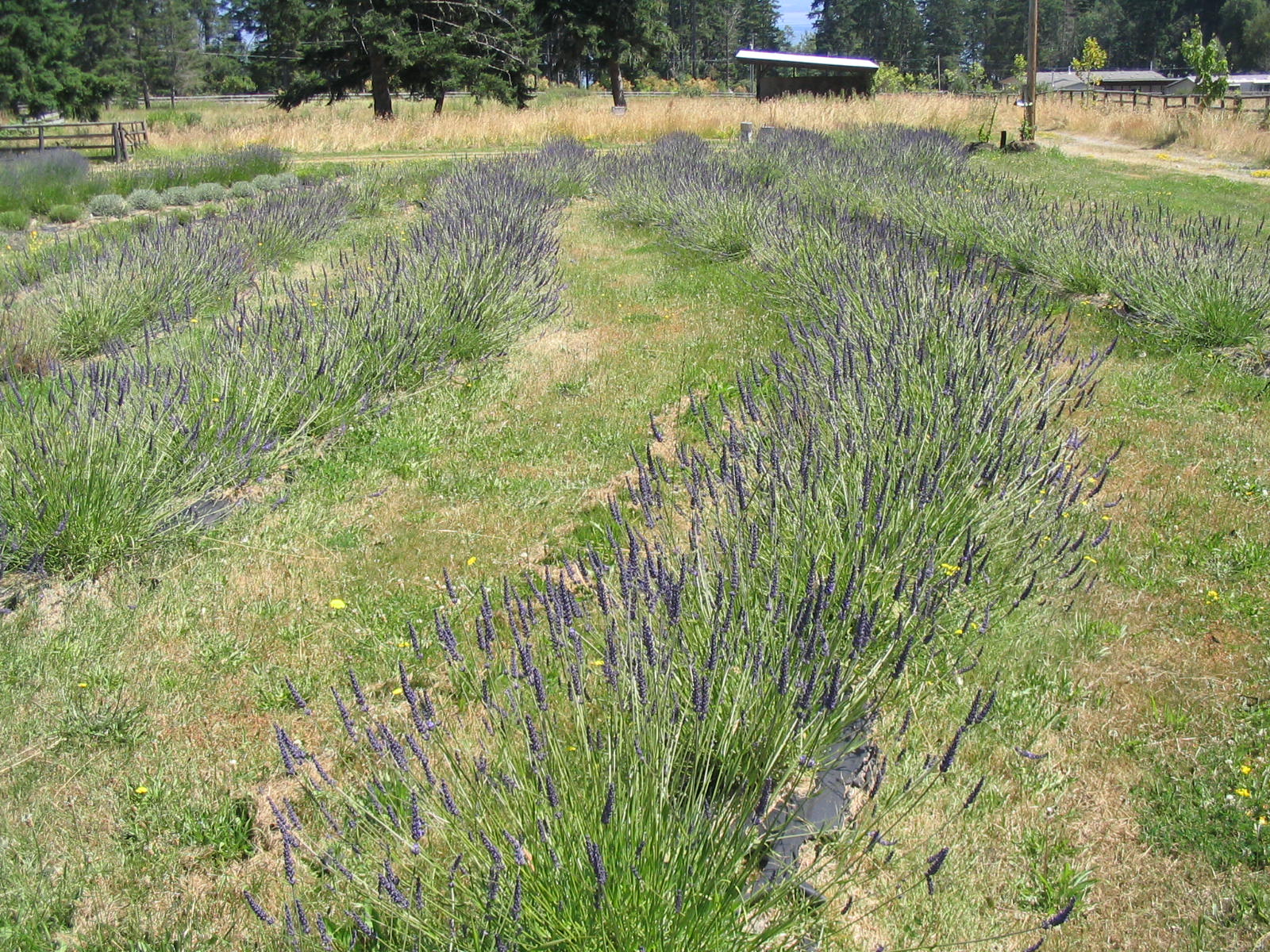 I cut about two and half 70 foot rows of Albrialli Lavender ( The first Lavandin to be cloned or propagated was Lavandula x intermedia Abrialii in the late 1920's. A natural cross between L. angustifolia and L. spica, Abrialii Lavender was the plant of choice for oil distillation before they were decimated by disease. They were mainly replaced by Grosso). This variety makes great bundles. Most of them were first year plants which made cutting them pretty easy. I was able to gather each plant up in one hand and with a swipe cut an entire plant. When these are fully mature it will take probably five swipes to cut one plant.
I will cut the Grosso Lavender – Lavandula intermedia (In the 1970's lavender grower Pierre Grosso developed the Lavandin, Grosso Lavender, which was more robust and is now the most widely cultivated Lavandin. Grosso replaced Abrialli as the preferred choice for oil production) next week.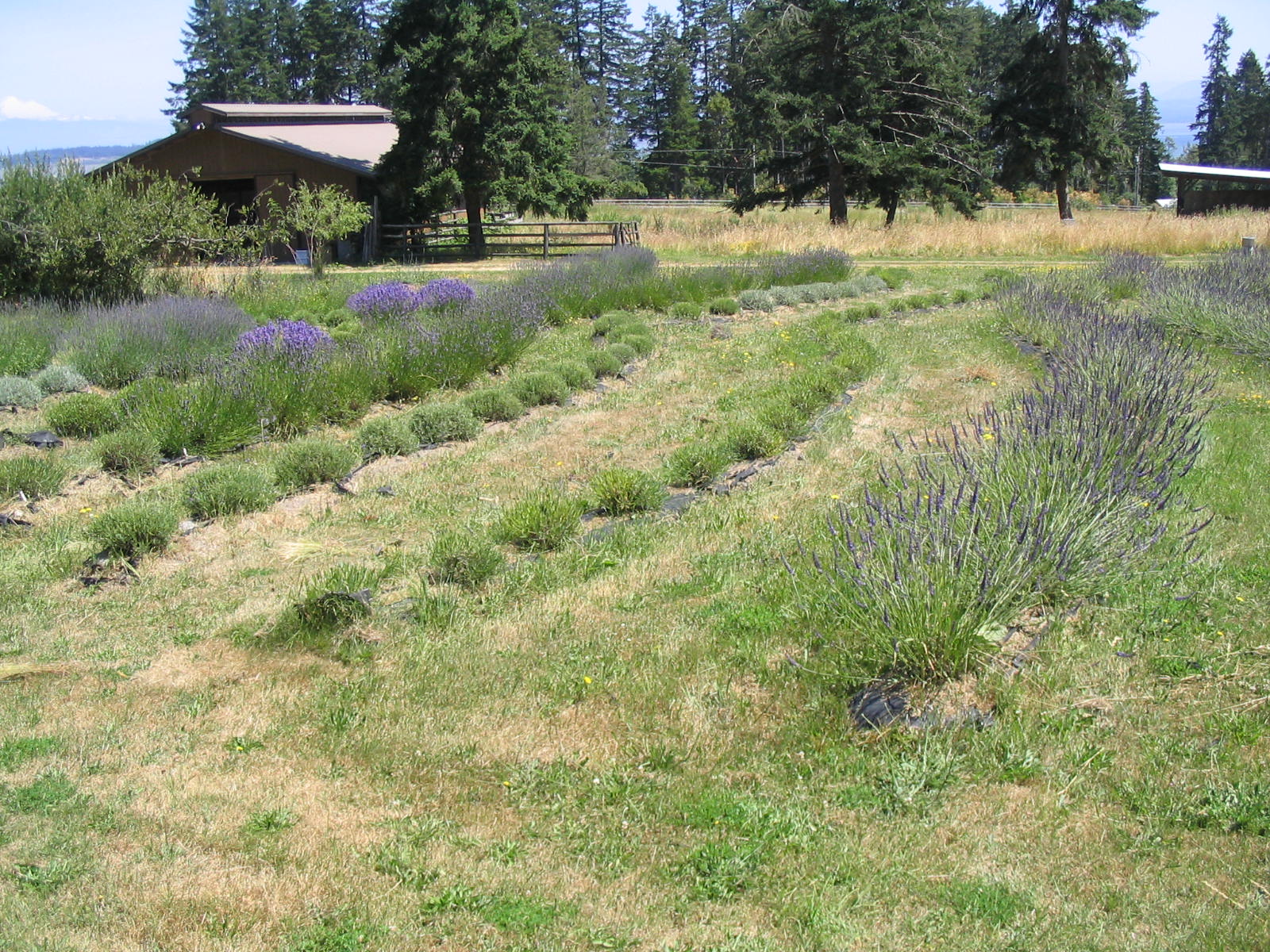 It took 4 hours or so to cut the lavender and with it cut it was time to grab a cold beer and sit down and bunch and hang them.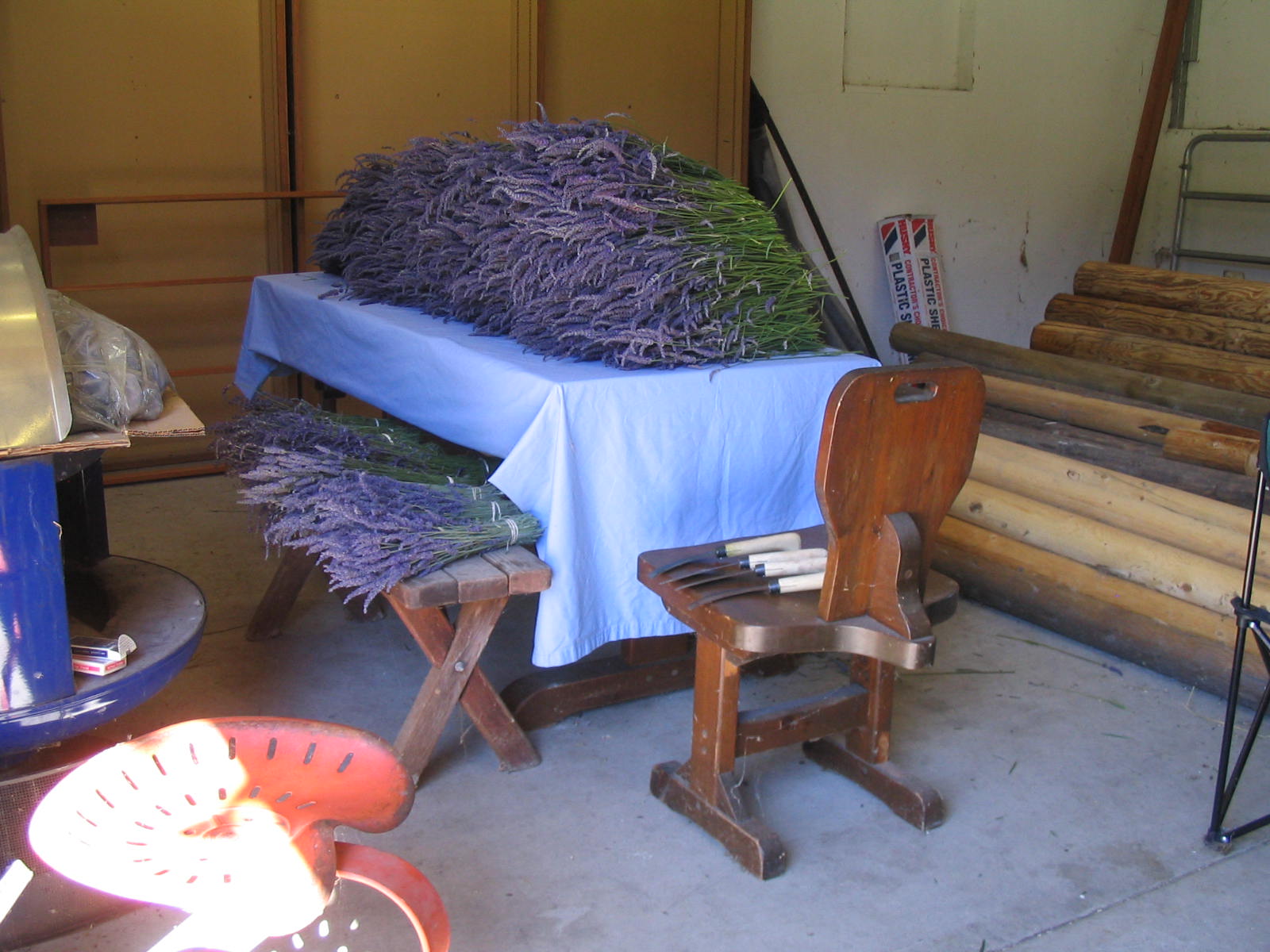 ~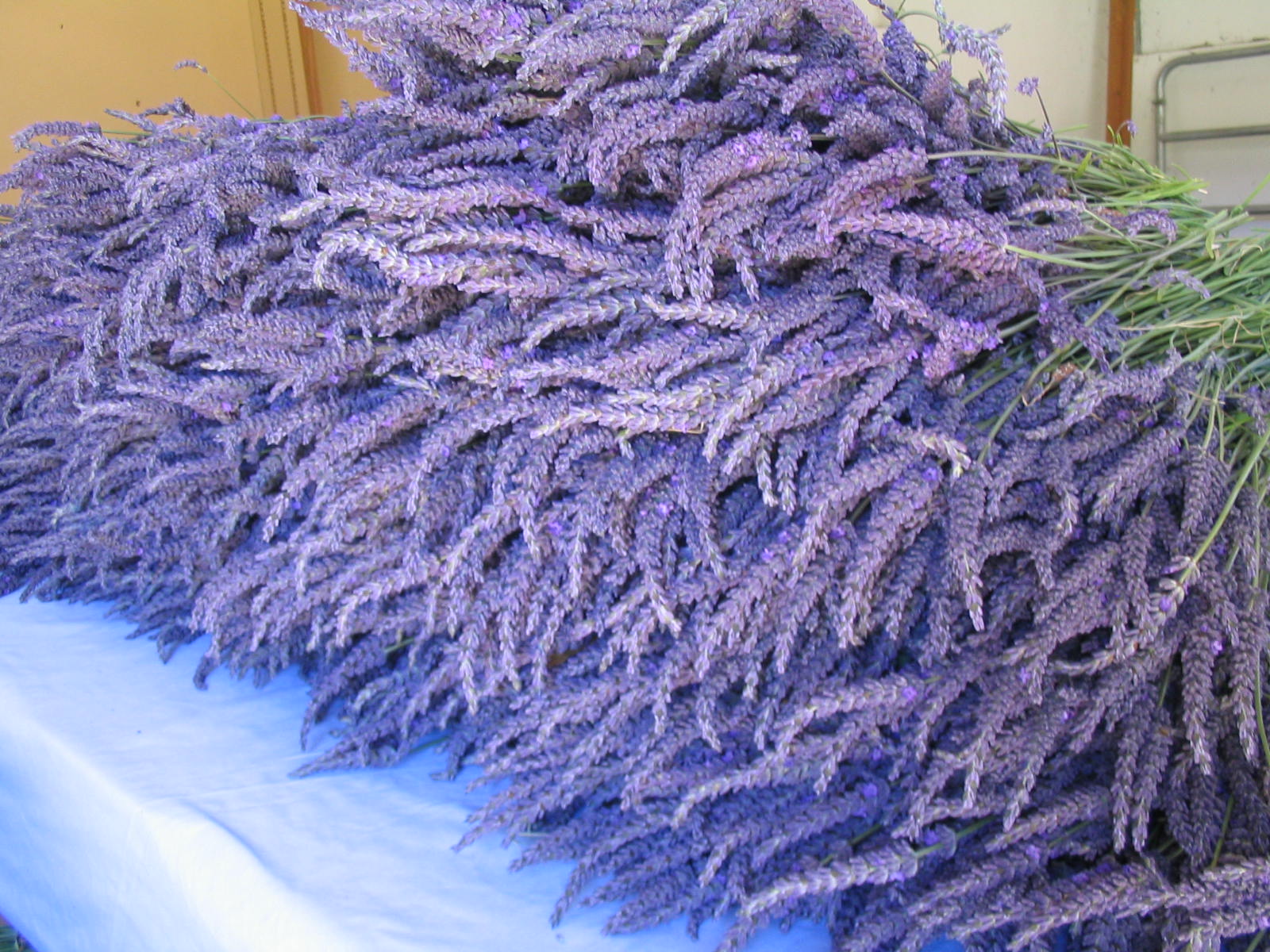 ~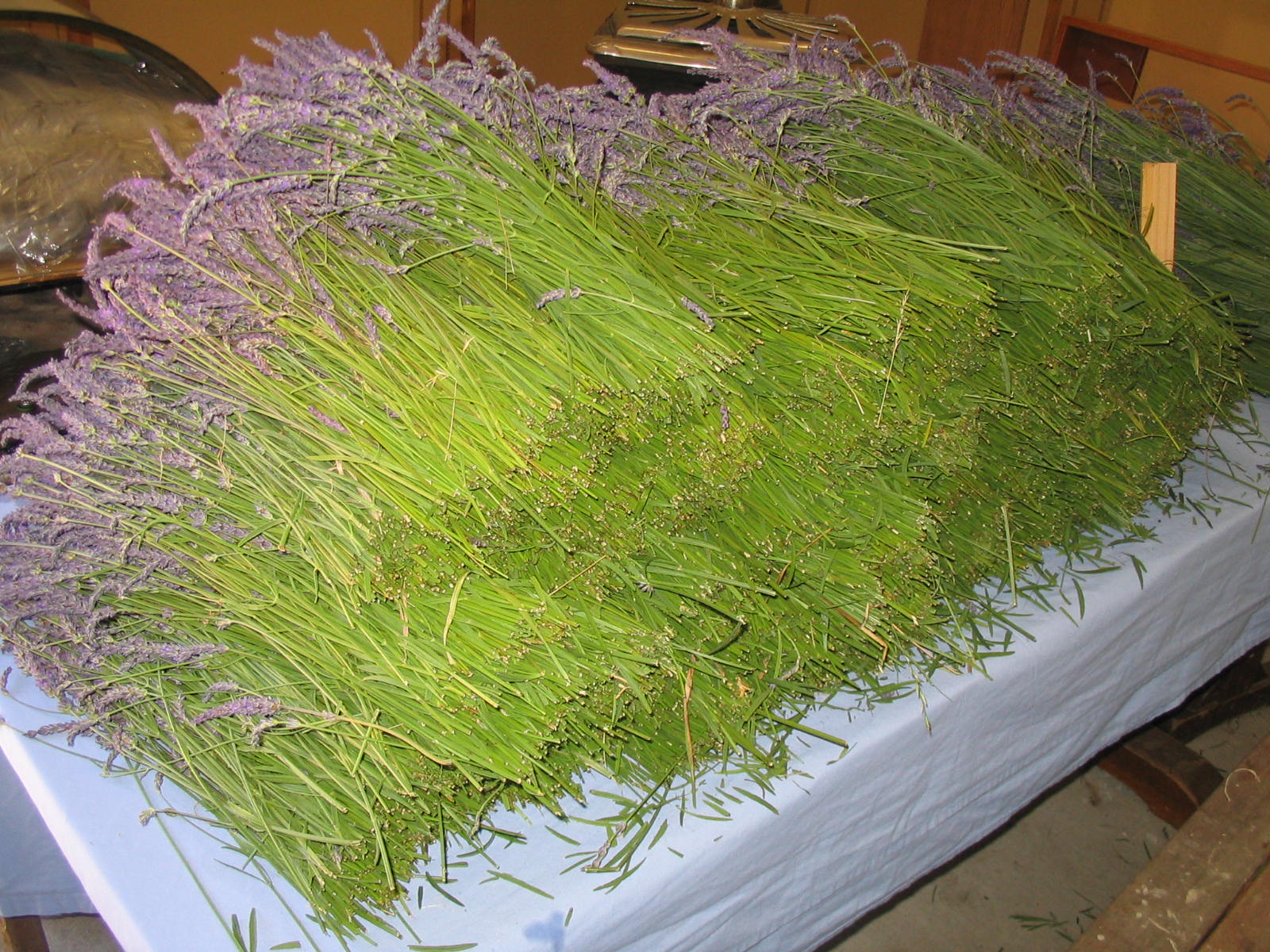 Abrailli works great for drying in bunches because it's flowers hold onto the stem better.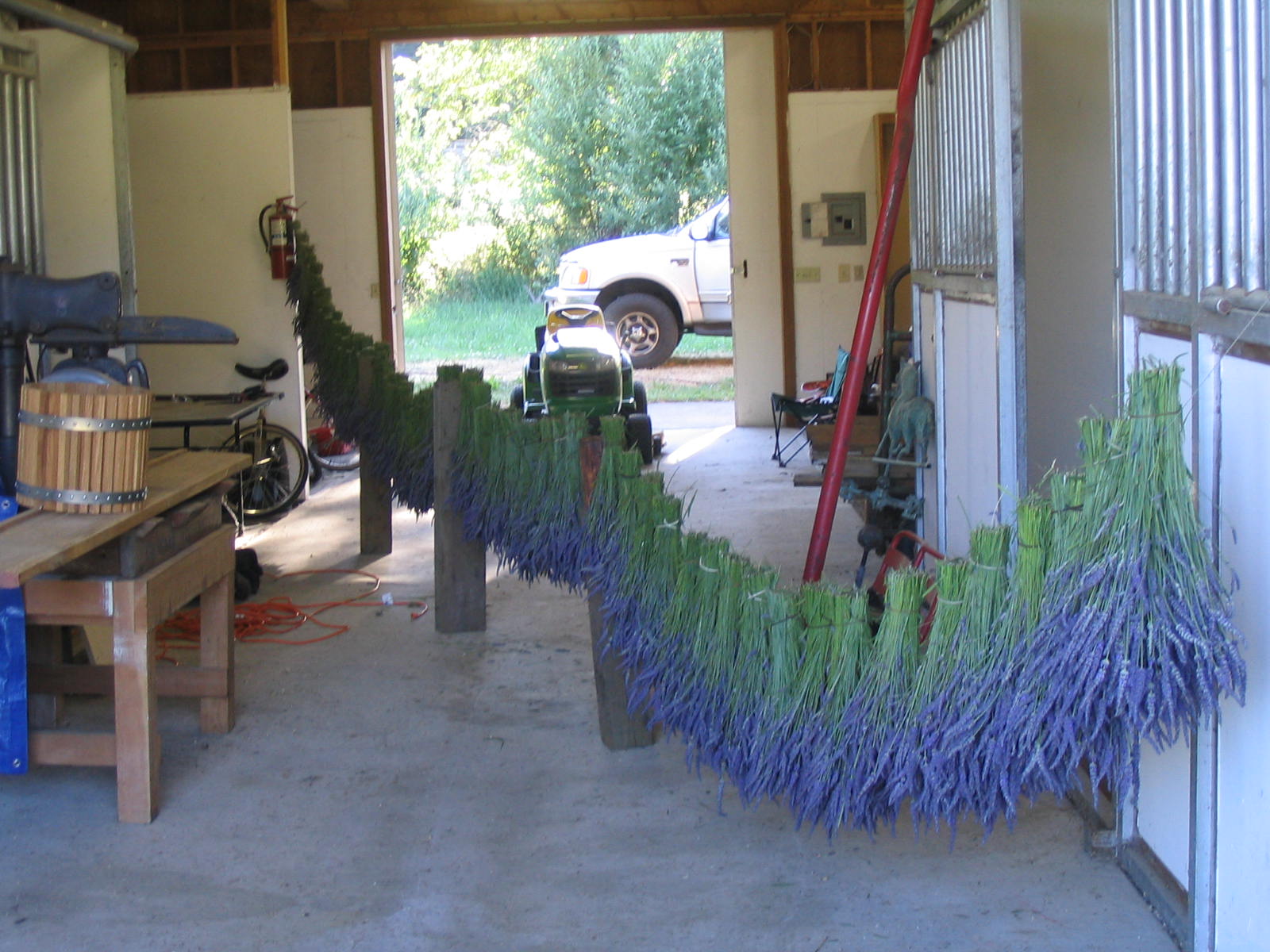 Seventy bunches later and it was ready to dry. I couldn't find rubber bands to tie them so I used hair bands…not ideal but it worked. I will let these dry for a week or two and then figure out what I want to do with them. It should smell pretty amazing the next time I open the barn. ~
July 27th 2008
Cutting and hanging the Grosso
It is very easy to cut first year lavender. Everything fits into one big handful, cut, band and your done. Mature lavender can take five big handfuls to do one plant.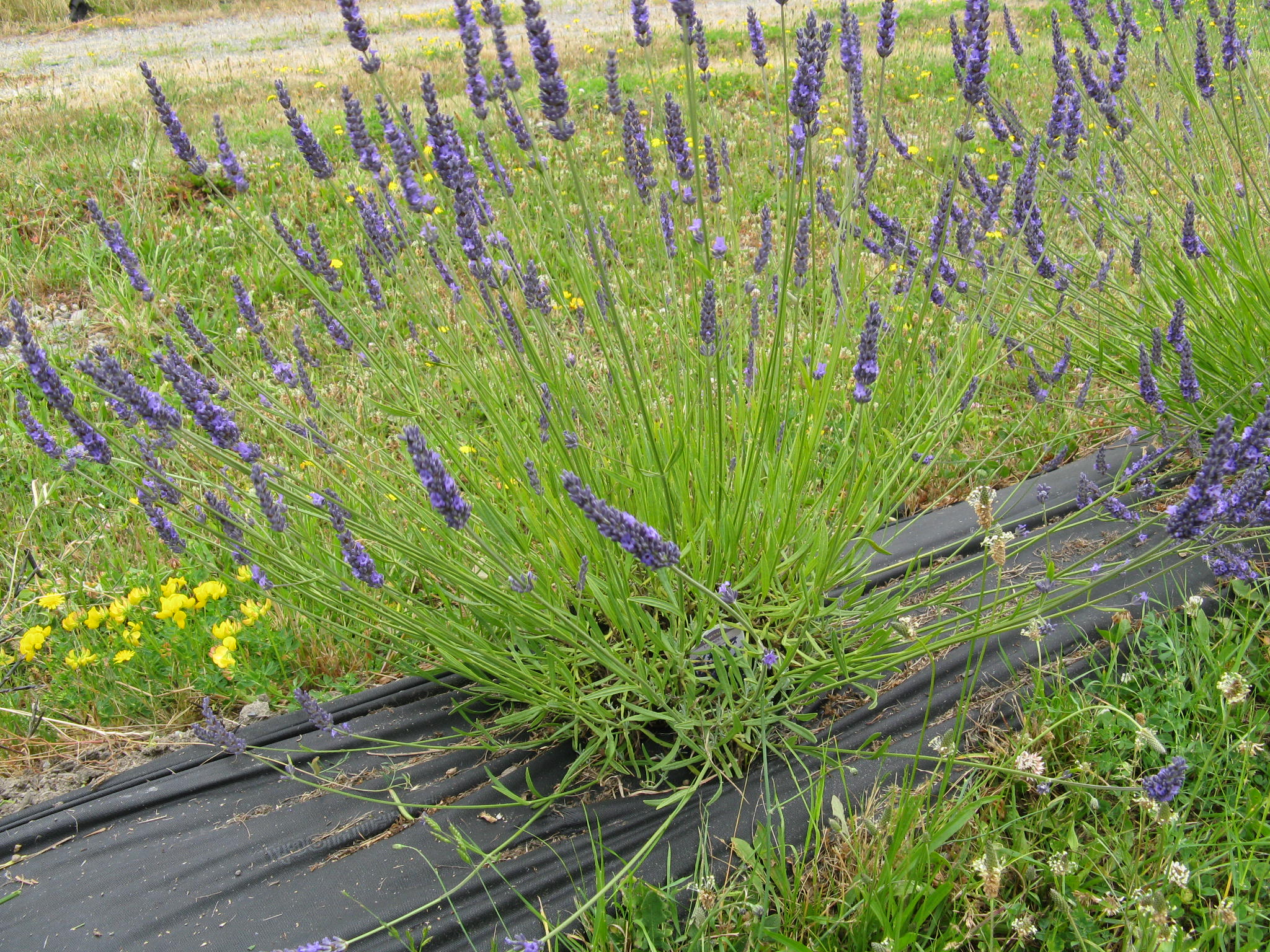 First Year Grosso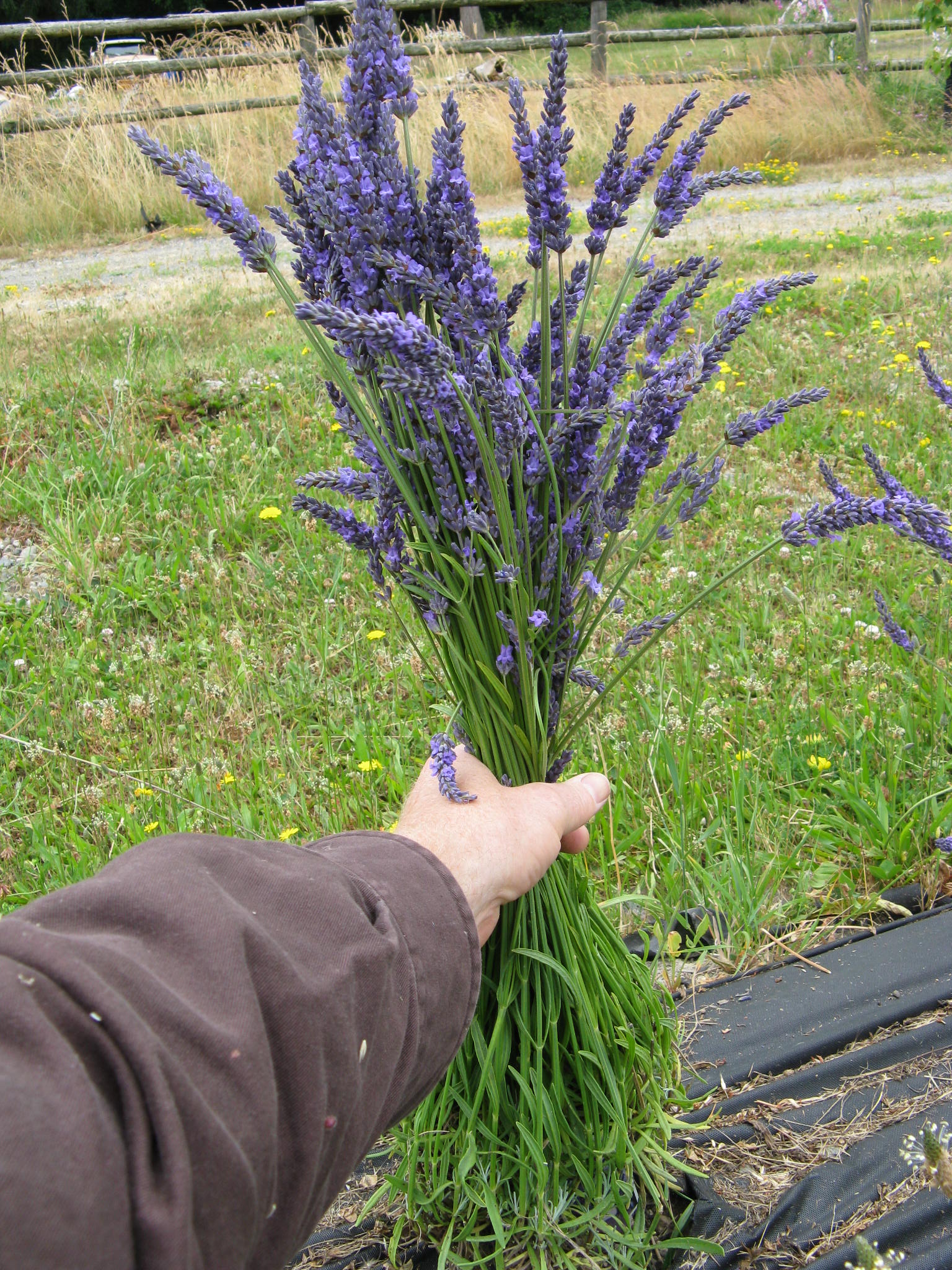 Gathering it Cutting the Grosso – Lavender should be cut when the first couple of florets are open and the cut should be made under the first pair of leaves from the flower side of the stem.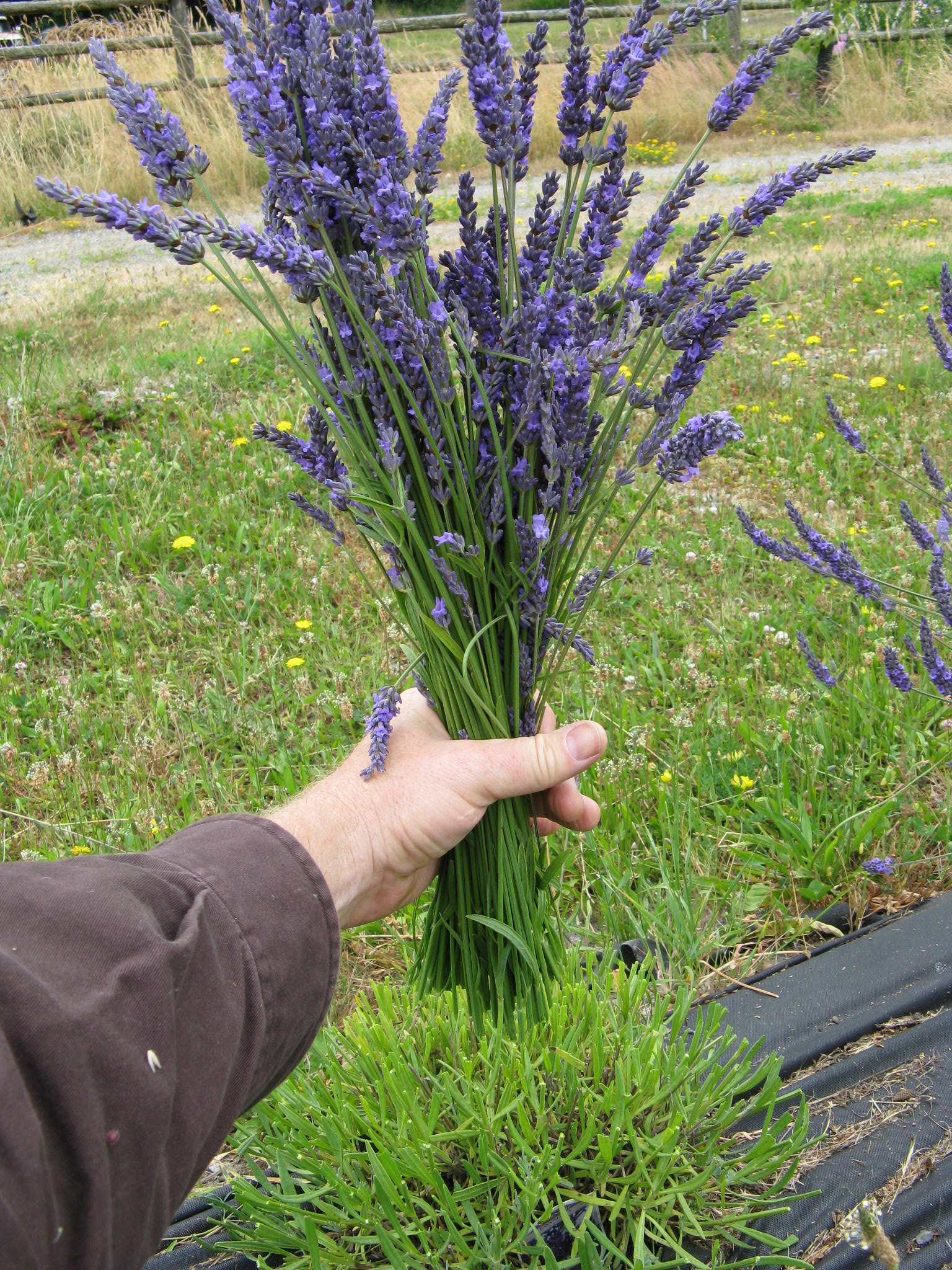 ~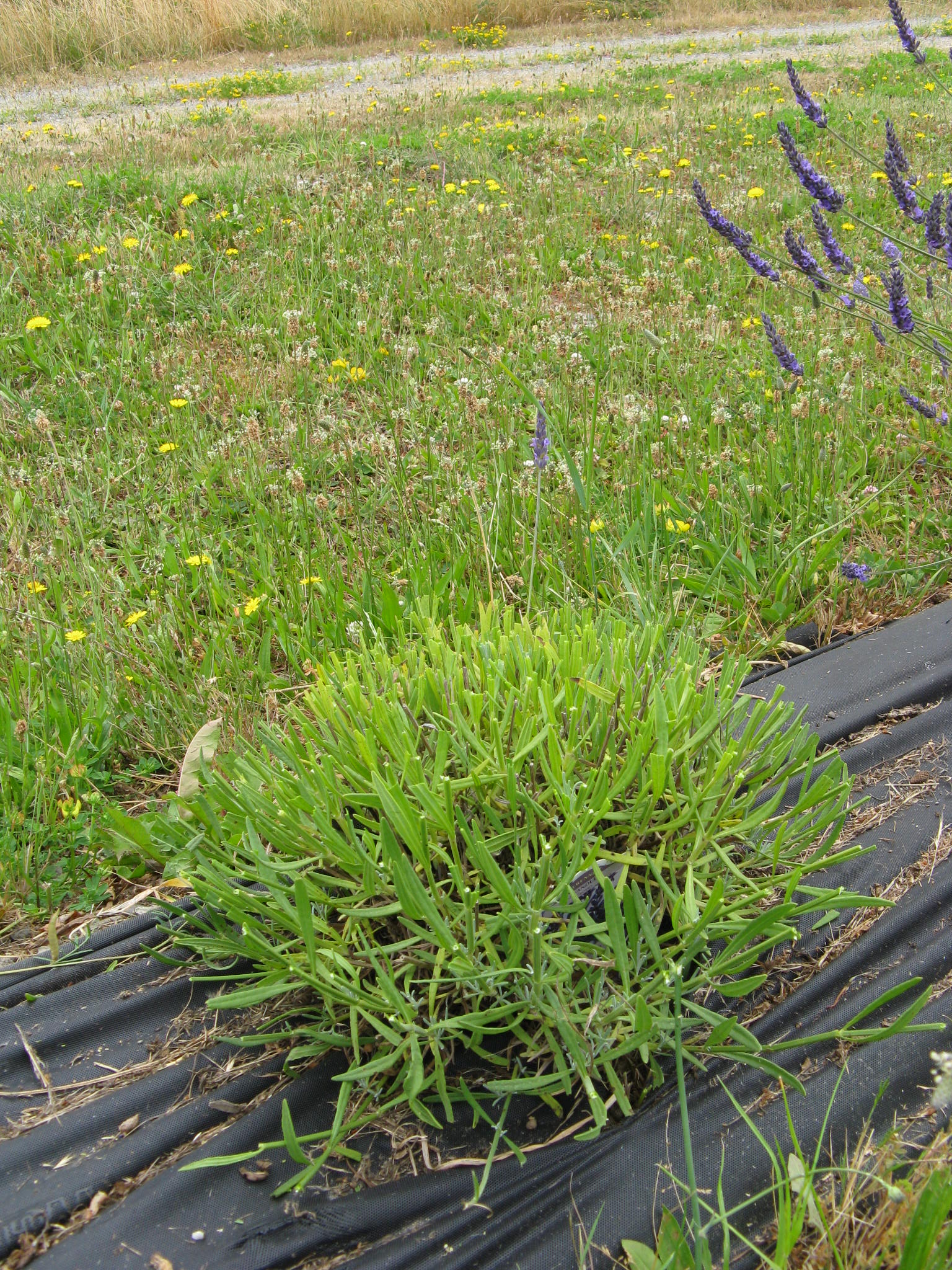 The plant after cutting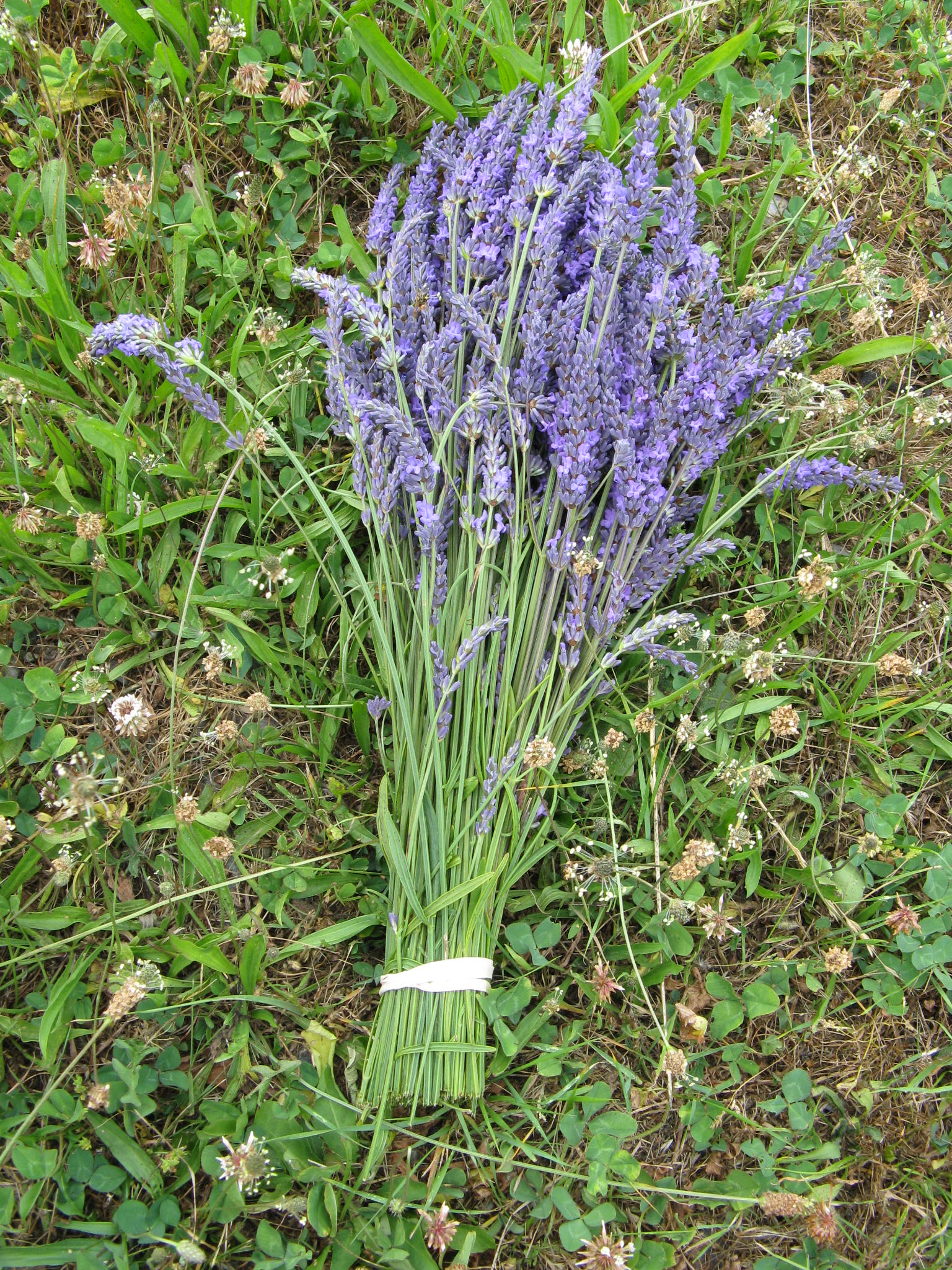 The banded bunches laying on the ground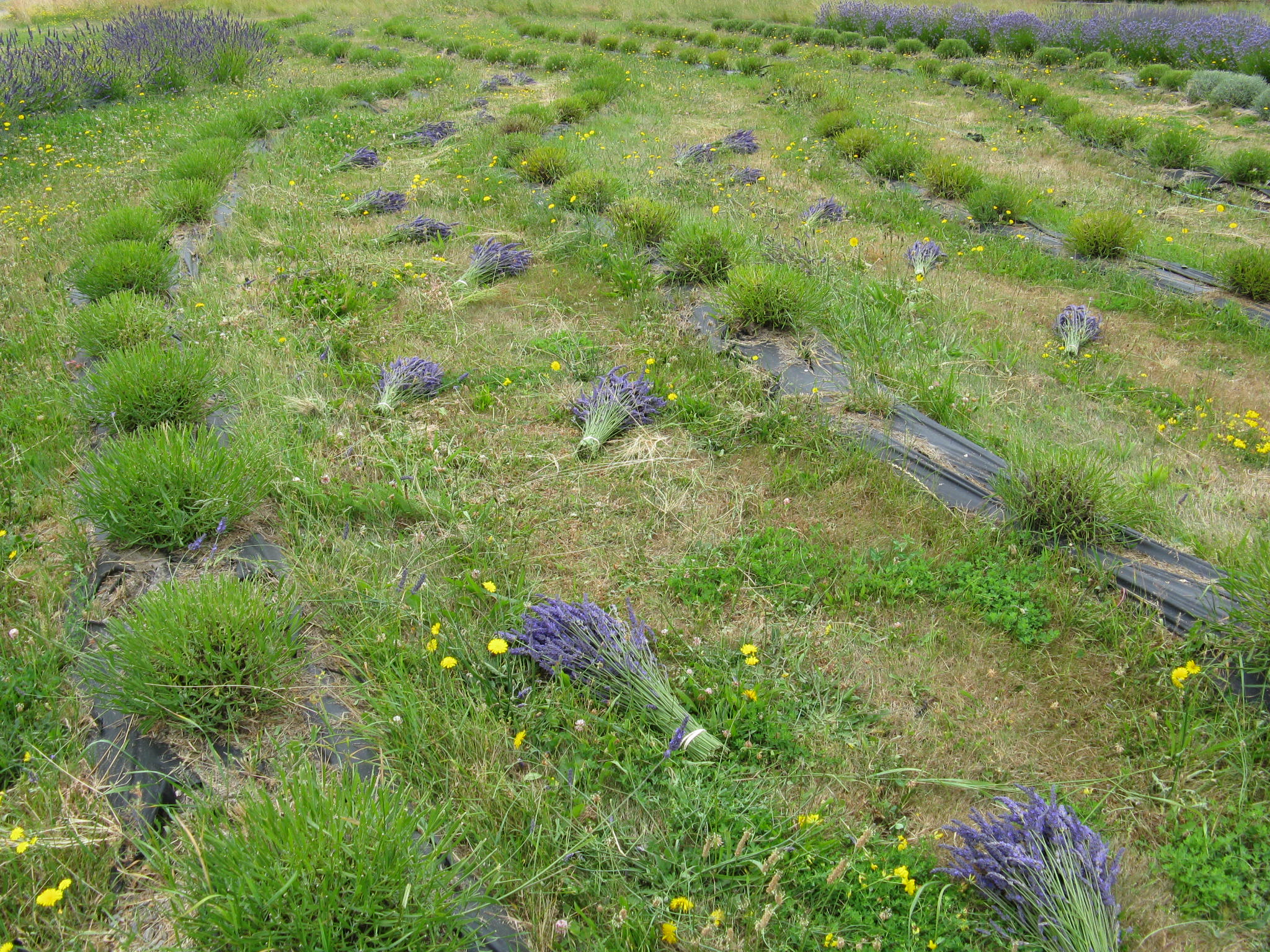 The Abrialii (L.x intermedia) was cut first and the Grosso (to the left) second. I noticed that the Abrialii is definitely looking sickly. I first thought it was the soil in those rows but then I noticed that one row was half Grosso and half Abrialii and the sickly plants started with the Abrialii. In the past I have not really watered the plants but I think I will water the Abrialii to see if that might help. I have a feeling though that I will be replacing these plants with Grosso… After gathering the cut plants I hung them in the barn.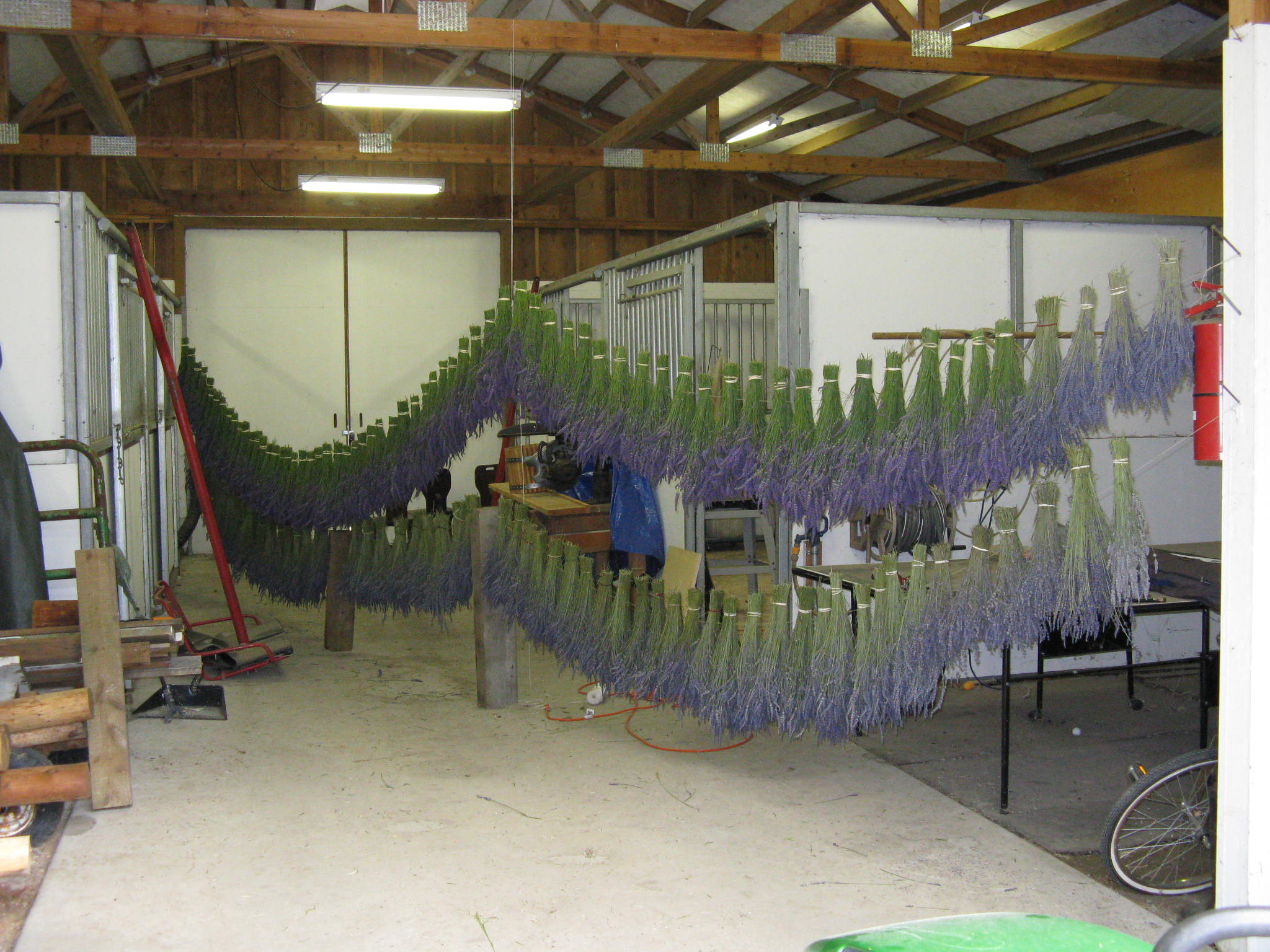 I added a fan to keep the air circulating and shut the barn doors. August 16 2008 I traded some bouquets for some Grosso, Hidcote Blue (angustifolia) and Rosemary.
Johnny and Brenda of Best Buds in Madison Park are the best as I have said before. Go there is you want the best deal on plants in Seattle. I am going to replace the Abrialii over time with more angustifolia and Grosso. The Abrialii just ain't workin. Hidcote Blue is basically Hidcote, an angustifolia, a strong scent but can be rather floppy with age. Major Lawrence Johnson of Hidcote was said to have brought it to England from France in the 1920's.
September 21st 2008
I cut the last of the Lavender today. The lavender is drying and the season is pretty much over. I will need to weed the field and cut any second growth I get. A lot of the weed fabric is torn to shreds.
I have begun making Wreaths, which are actually quite easy to make. Grab a beer, the wreath frame and the wire and start. I hiked around the fields and found different plants that looked like they would be good in a wreath. I have no idea what I am doing but it can't be that difficult. There are so many plants look like just rogue throw away plants until I look at how they might be used in the composition of a wreath. Nature has taken on a whole new perspective.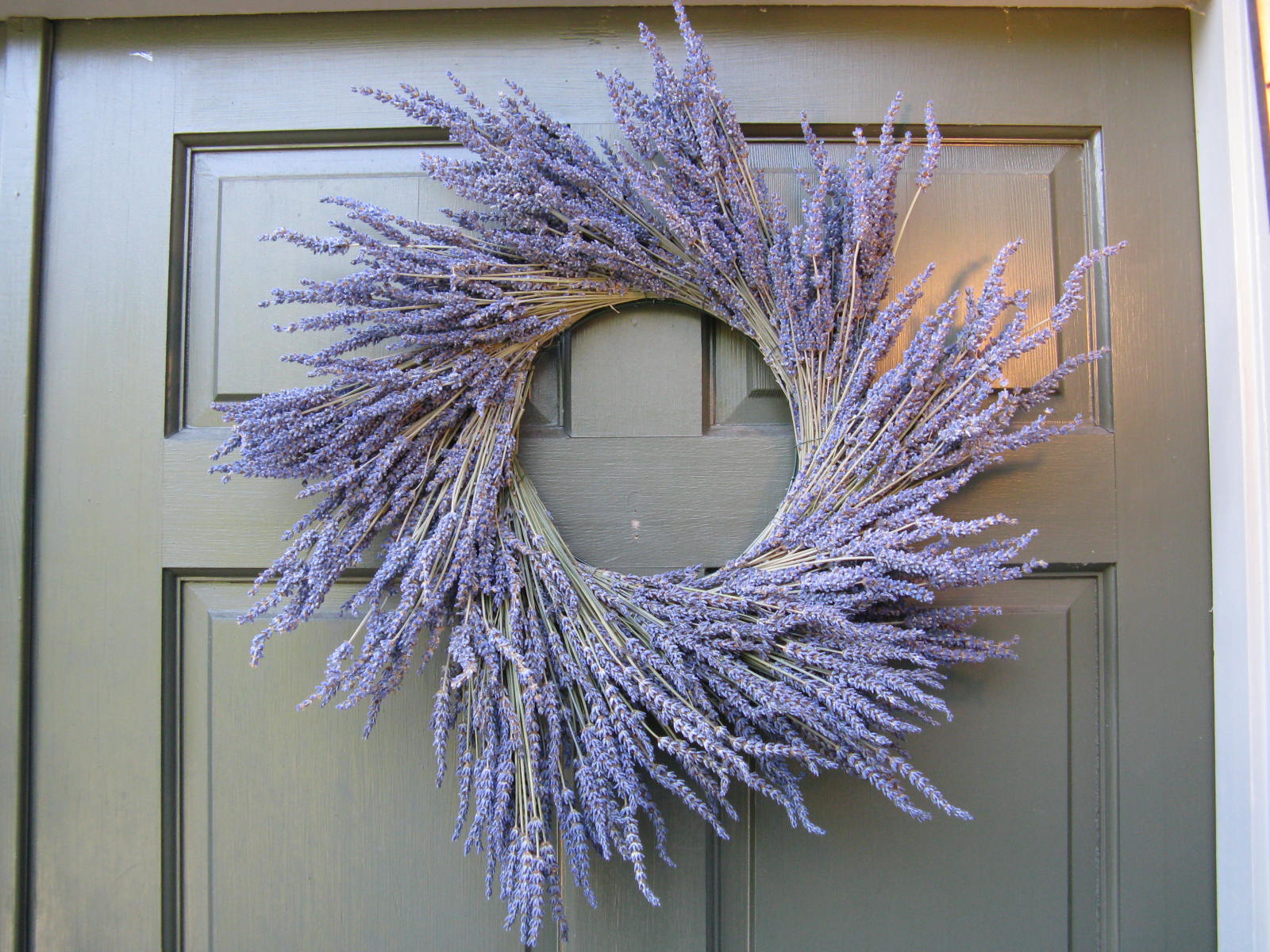 ~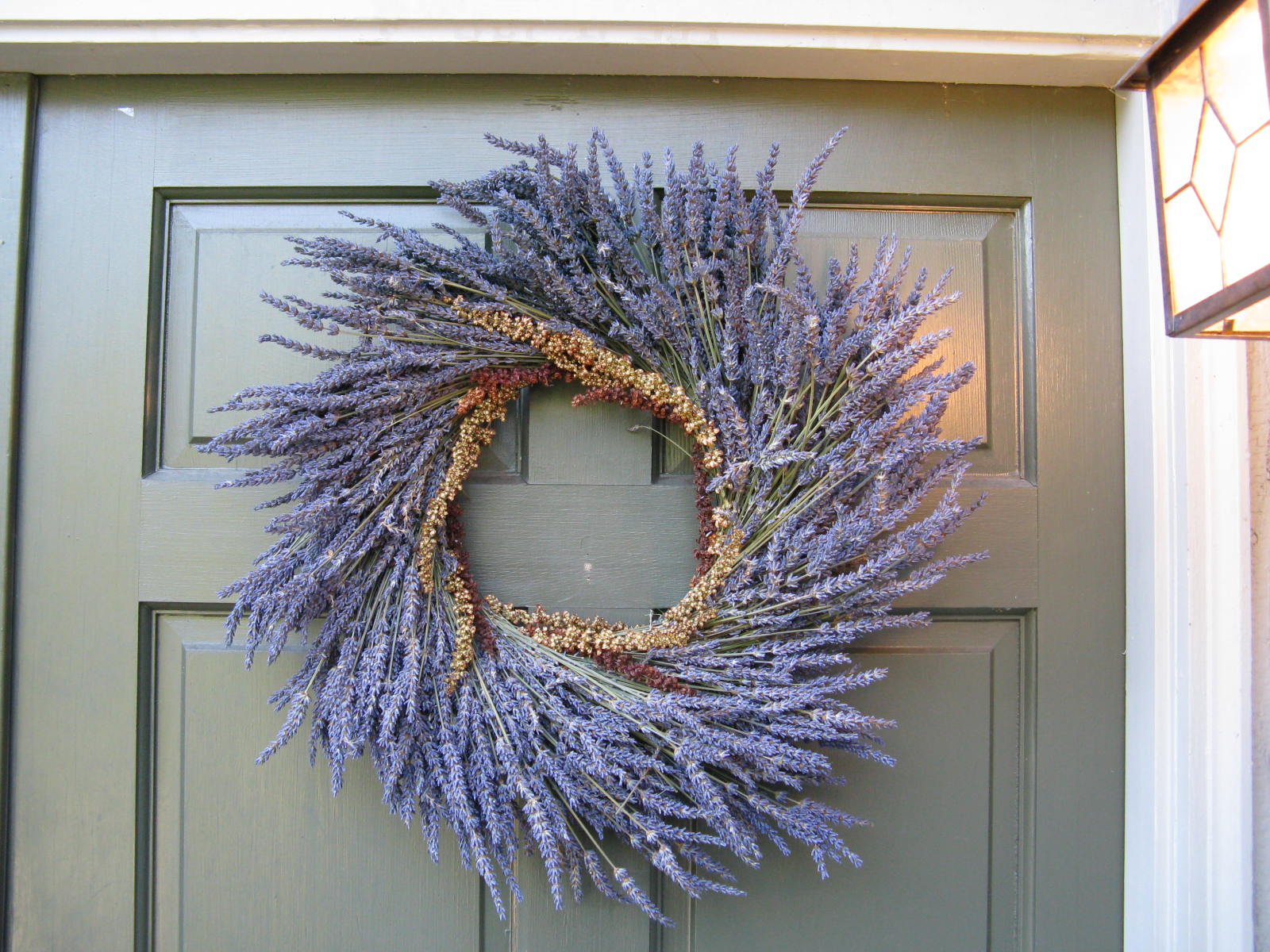 ~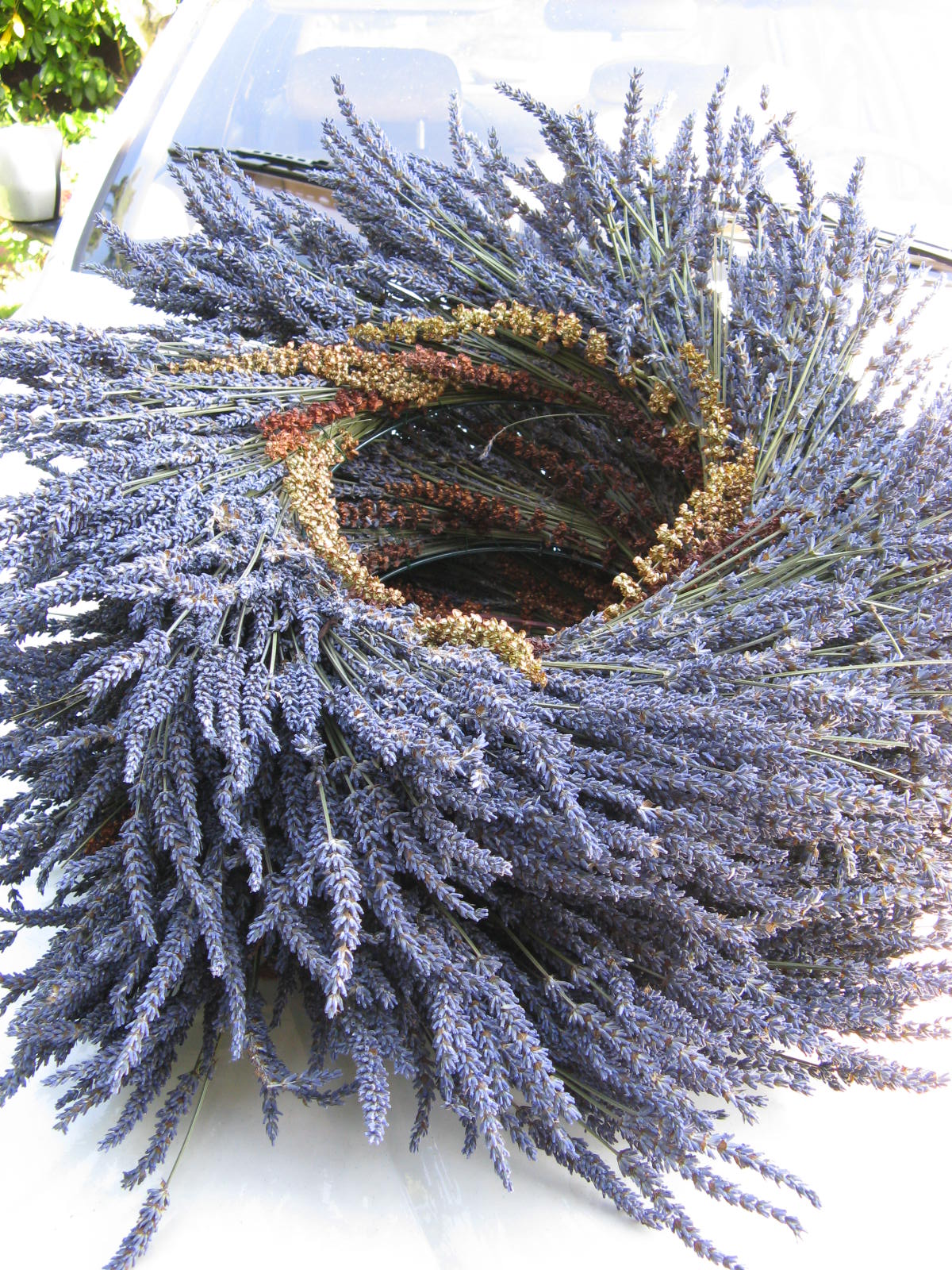 ~
I have been selling a lot of sachets in the Salon ( Tim Walsh Salon in Madison Park Seattle ) and infact have now sold out and am finding more of a demand for Culinary grade lavender. By Christmas all the wreaths have sold…so I have a few bouquets left and that is it for the 2008 season!!
~