2013 – Year Six ~~~* The Year of Results
The year of results came to mind due to the bees looking extremely good early this spring…we shall see…
Last year I moved the hive to the south side of the barn. I hoped that the added protection and the heat might help the bees survive through the winter better. I really thought one hive would not make it because it showed so few signs of life.  This March I opened them up to find that both hives were not only doing well, they were thriving. There were lots of new bees early on and honey reserves were good. I fed both hives anyway and the hive that I thought wouldn't make it ate the syrup. The other hive didn't seem to want it and after a month I through it out.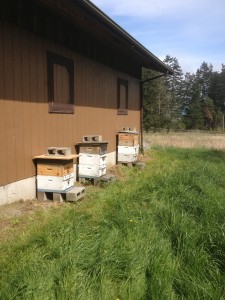 I have never had a year where the bees looked so healthy going into the Spring.
When I checked on them this last weekend the weaker hive were putting away honey on some frames and there were lots of brood.
I added another hive this year making three hives total. I am thinking about splitting one of the hives and possibly buying another queen for the weak hive. I noticed some very spotty laying patterns.
It is going to be interesting to see whether the new hive eats the syrup I gave them. As I was mixing it up I grabbed a gallon of what I thought was distilled water. It turned out to be a gallon of lavender hydrosol. Hydrosol is the water that comes out when you distill botanicals. Last year we distilled a lot of lavender and I had placed some in the fridge.  SO it was very fragrant syrup for the new hive!