Draggin Out the Drones
August 30 2009
Every year there is a day where I know summer has ended and fall has begun. Maybe it is the angle of the sun and the lower light level or a crispness to the air…not sure, but this year the sign that fall has begun were the worker bees dragging the drones out of the hive to the front porch.
After mating with the queen the drones are largely unneeded and the remaing drones basically exist to mate with future queens. If they were allowed to remain they would just consume valuable honey and pollen reserves meant to allow for the survival of the hive over the winter.
In some cases a worker bee would just grab a drone and fly off with him…probably dropping him somewhere in the field. Other drones did not go without a fight and and an ensuing confusion.
The bees seemed feistier this year..maybe it is due to less intervention from me making them a bit wilder. Each hive though has it's own personality and one is definitely feistier than the others.
*
In the above photo a worker bee is taking out the bigger drone and you can also see a yellow jacket/robber checking out possible protein sources.
In the photo below a worker bee drags a drone off of the front porch.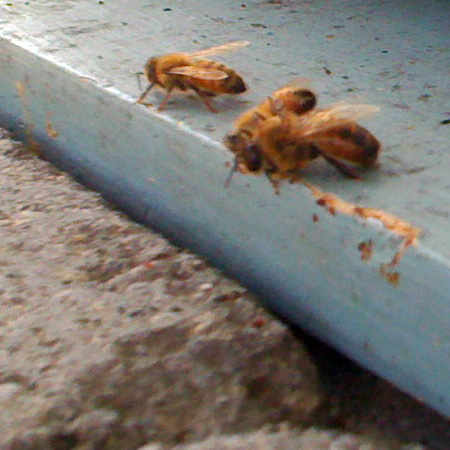 and…no I don't want to go!!!!!!