Honey Extraction!
After a year and half I am able to extract some honey! Most of my supers are semi deep and mediums. I didn't know this going into beekeeping but in the end knowing the sizes of my supers helped me choose the extractor that was right for me.
Extractors..what are they, how do they work and which one should I get?
SO first, extractors remove the honey from the comb. Some people remove the entire comb and smash it and drain out the honey but I would say most people decap the honeycomb by scratching it with a capping scratcher or a heated decapping knife, place them in an extractor and spin the honey out.
*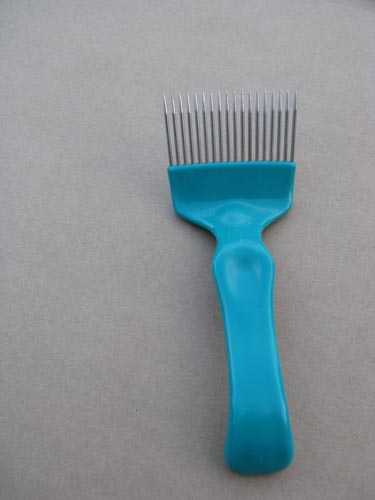 ______________________ Capping scratcher which worked great
*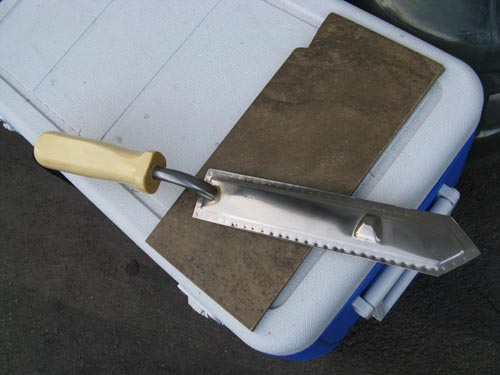 Heated Decapper which also worked great but I think I like the scratcher better
*
There are quite a few types of extractors. Basically they all spin and the centrificle force removes the honey. Some are hand cranked and some use small motors to spin the honey. Some are made to spin the frames radially like spokes on a bike as in this picture of the Maxant 1400
*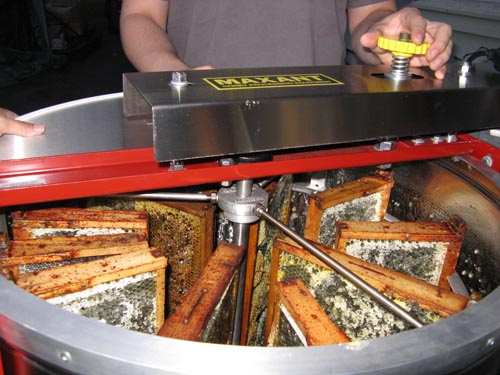 *Radial Extractor
Other extractors use a combination of radially and tangentially like this Maxant 3-6-9 3100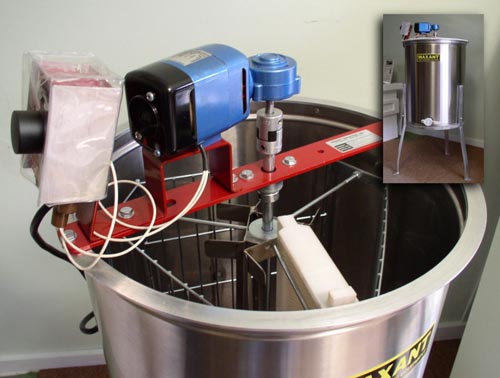 *
This will handle 3 deeps, 6 mediums and 9 small frames.
I was afraid of blowing out the foundation if I went with an extractor that used tangentional placement. Some of my frames seemed a bit fragile when I would check on them. The bottom piece of wood along the bottom of the frame had come out on some of them and I thought that those might come completely out if I spun them with all the force on their side as in the tangent design.
SO my thinking about and purchasing of an extractor proceeded as follows: The thing is…I have 3 hives…not many and I did not want to spend a lot of money if I could get by for less. In the past I have always opted for more work on my part to save money whether it is fixing cars, painting houses or remodeling. SO thinking that way, the hand cranked model that could spin 3 deeps, 6 mediums or 9 smalls seemed adequate and it was 400 bucks roughly. It could be like the old days…I could pretend it is the 1800's and I was homesteading…hand cranking would be romantic in a way. But then Julie my wife said, "If this resembles work in any way you will be doing it alone" …and that pretty much made my mind up, it would not be hand crank model.
I decided that I wanted a Maxant after reading some posts on a popular beekeeping forum called BeeSource. Maxant Industries seemed to be popular due to their customer service and the availability of parts. I know people that use an Italian brand called SAF Natural as well as Dadant's models but I liked all the positive feedback on the Maxant models especially the Maxant 1400 10-20. This model hold 10 deeps or 20 medium & smalls ALL radially. I liked this idea but I have 3 hives for crying out loud…not many and I don't want to spend 1125.00 for an extractor! I wasn't sure what I was going to do but I contacted Maxant and they put me in touch with a beekeeping supply company in Gladstone Oregon just outside of Portland called Ruhl Beekeeping Supply .
So Julie and I drove down on Monday and discussed which one we should get. The theme that kept coming up was we are sick of working so hard just to save a bit of money and besides if honey extraction even seemed a little like work she and the kids would lose the intrigue shortly there after and I would be extracting alone…seems a little harsh but is basically just plain and simply true :
*
Ruhl Bee Supply, just outside of Portland Oregon, in Gladstone, is a great place to buy equipment.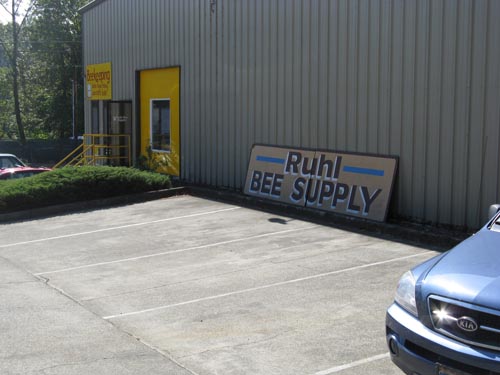 *
The 3100 model which could do 3-6-9 frames was about 800 bucks….the 1400 10-20 was 1145.00. In the end saving 300+ bucks would not out way the fact that I would not out grow the 1400…nor would I have to take all day to extract the honey and if I needed parts they were readily available. So I got the big one.
*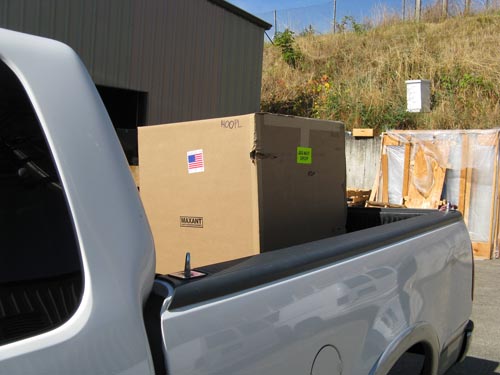 *
Yes it seemed like over kill and a bit indulgent not to mention the fact that I charged it…really don't have the money to buying a honey extractor. But years down the road we will be glad we just went for it. Brendan unpacked it.
*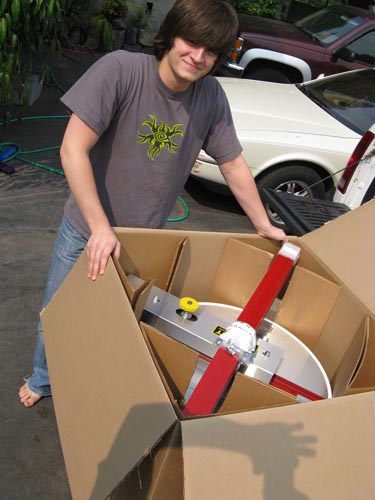 ______________________…and we put it together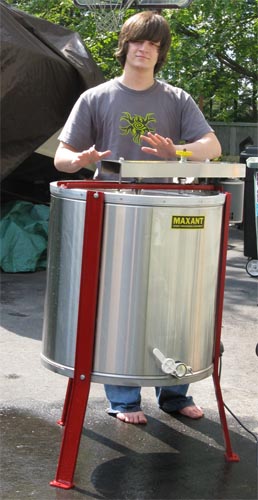 ______________________________
*
Complete with lids removed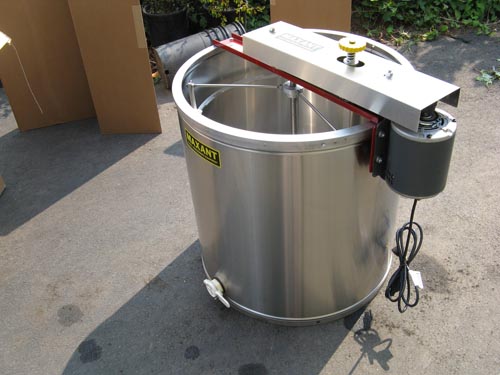 *
Washed it out and started the process of extraction
*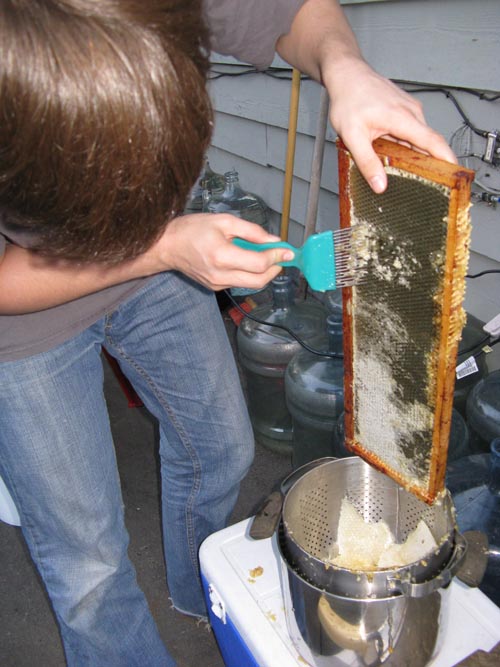 Scratching off the capped honey
*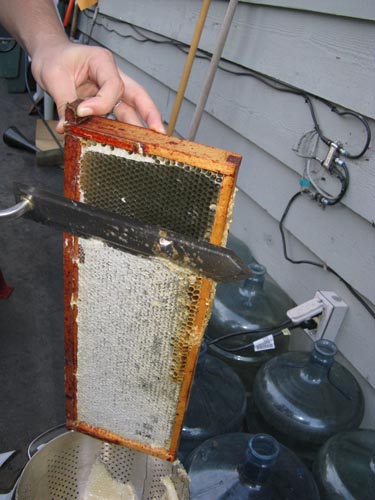 ______________________ Using the heating knife to decap
*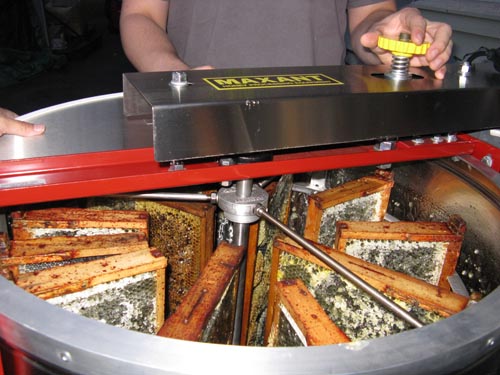 The yellow knob engages the belts slowly so you can control the speed.
*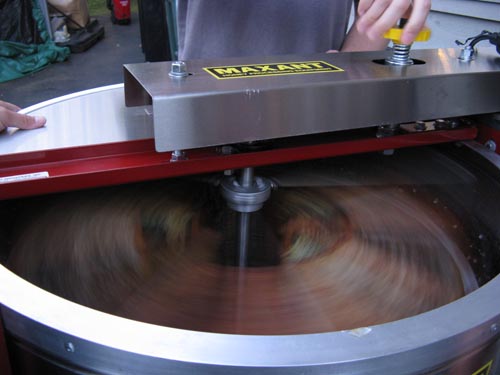 *
Roughly 10 minutes later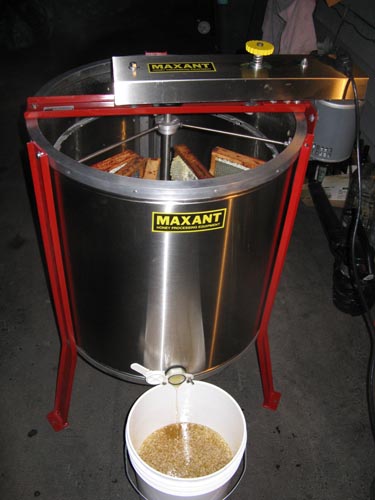 ______________________
2.5 Gallons!!!
The honey settled overnight in a 5 gallon plastic bucket and the next evening we started bottling.
We ran it through this sieve into a pot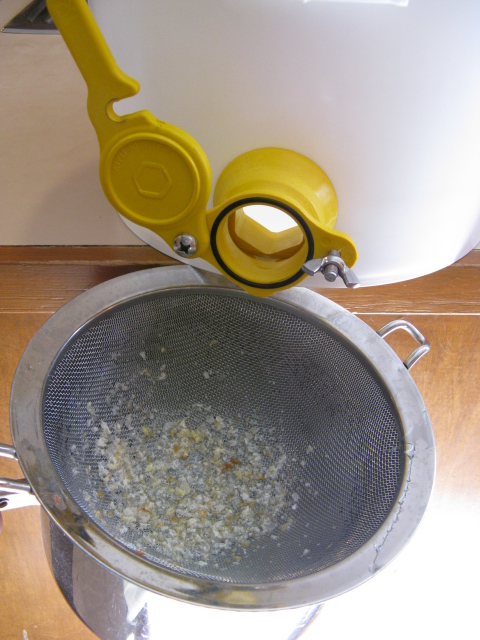 ……and then into the jars