Week 3 & 4 ~ Building the Comb
May 3rd 2008
The bees are busy, busy, busy.
Both hives have consumed one gallon of sugar syrup and both are actively leaving the hive and foraging for nectar. The one hive is still more aggressive than the other…measured in dive bombing guards, who I suspect would be stinging me if I were not wearing a suit. But even those bees are few and far between. For the most part I am surprised at how they are far more concerned about doing the work they have to do than attacking anything that gets too close.
They have built comb in 4 of the frames and are working on the fifth. They don't seem to have any hesitation or aversion to building out the Pierco foundations. Their accuracy and precision in building honeycomb is pretty amazing. The geometry looks flawless.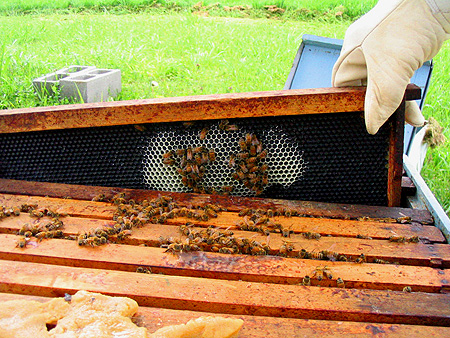 Building honeycomb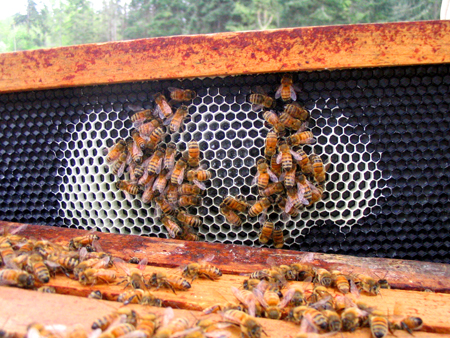 Click on picture for 1600×1200 version
I am noticing a lot of ants, carpenter ants I believe, eating the sugar syrup. I saw a stand design for the hives that includes a small mote around each leg filled with oil to keep the ants from reaching the supers.
WEEK 4
The bee's are beginning to eat the pollen patty in the hive that has been going out and foraging for themselves. The other hive continues to consume more sugar syrup.
Go to Week 5 & 6 – A Growing Hive