Foundations: Wax or Plastic?
Within each box or super are individual frames that can be pulled up and out of the box. Inserted within these frames are foundations. The foundation is where the bees build their honeycomb. These foundations can be made of pure bees wax with wires holding them in place, thin sheet plastic sandwiched between two thin layers of bees wax (Duraguilt) or thicker plastic coated with bees wax (Pierco).
I have chosen to start out using Pierco plastic foundations with wooden frames. I like the idea of using all bees wax foundations but it sounds like these might a bit easier and the major honey producers use them so I thought I would give them a try. I chose the Pierco plastic foundations. They appear to be coated with a thin layer of beeswax.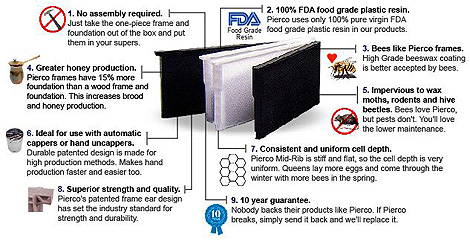 ~
Here are the way my frames and foundations look: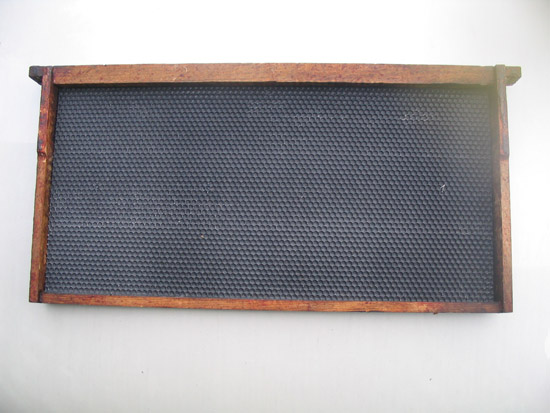 Here is a close up of the Pierco foundation in the wooden frame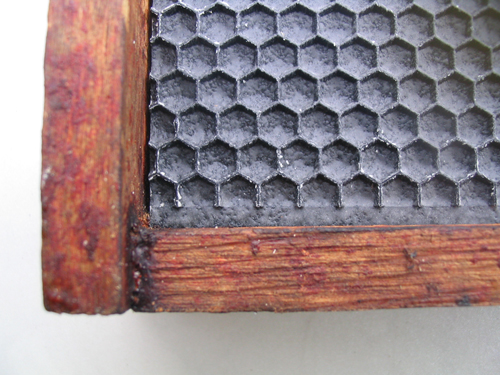 How to Introduce Pierco Frames and Foundations:
Differing weather conditions, floral sources and nectar flows will influence the best method of frames/foundations introduction. Colonies should be strong and healthy. It is difficult to get bees to draw new comb if they are under stress. Also, colonies must have a good nectar flow, be it natural or artificial (sugar syrup). Bees cannot produce wax without carbohydrate coming in.
The following 2 methods have proven to be most successful for new frame introduction.
for a higher rate of acceptance and faster comb building: * *Before installing frames…
1) Dip plastic foundation area into sugar – water or honey-water solution fully coating foundation area. note: once coated keep foundation area clean and try to install frames within 10 days of dipping.
2) You can also place sugar-water or honey-water mix in plastic squeeze/spray container. take to bee yards, spray new pierco foundation area as you install the piercos in your hives.
1)New Pierco frames can be interspaced with drawn comb. For best results run 10 frames in your standard 9 frame super. Insert the new Piercos in the 3, 5, & 7 positions, (you can go as much as 5 and 5). The reason for going with 3, 5, and 7 positions is that sometimes the bees will be slow to draw foundation on the outside of the super. It is recommended to feed the bees heavily until the flows begin so they start drawing new comb immediately.
*Note-If after using the above interspacing method the bees seem to ignore the new Piercos while pulling the drawn comb further, do not panic, use the alternative method explained as follows: 2. Replace the drawn comb with new Piercos so that you are now running 100%, (10) new undrawn Pierco frames. Any undrawn Piercos with brace or burr comb can be scraped clean and put back in the super. This approach gives the bees no choice but to go to work and draw the Pierco Foundation. It is wise to feed heavily with sugar water or syrup at this time to stimulate comb building. Some people place a drawn comb on each end of the super as bait comb. We are finding more and more beekeepers from hobbyists to commercial operators are having excellent results through the above method of introducing full supers of up to 10 new undrawn Piercos, instead of alternating with drawn comb.
Do not get disappointed if at first you have a little trouble getting your bees to accept and draw new Piercos. Try variations of the above methods, be creative and remember colonies should be strong and healthy, it is difficult to get bees to draw new comb if they are under any stress, also, colonies must be on some type of flow, be it a natural nectar flow or artificial (sugar syrup), they cannot produce wax without having some type of carbohydrate coming in.
*NOTE:
1)DO NOT LEAVE PIERCO FRAMES IN DIRECT SUNLIGHT FOR A PROLONGED PERIOD OF TIME.
2)DO NOT PUT PIERCO FRAMES IN SOLAR WAX MELTERS.
3)DO NOT PLACE PIERCO FRAMES IN BOILING WATER